Exploring Osh's bazaars
After several days of long driving I was ready to just take it easy in Kyrgyzstan's second largest city for a day or two. The drives from Dushanbe to Khorog, Khorog to Murghab and Murghab to Osh were all really special but I was done sitting in the car all day long.
Most travelers just use Osh as a base to either explore the surrounding areas of Kyrgyzstan or as a starting/ending point to the Pamir Highway. As such it doesn't really offer that many sights for tourists except a "holy mountain", the Sulayman Mountain (which also happened to be Kyrgyzstan's only World Heritage Site).
But I was there on a Sunday when a) the regular bazaar is busiest and b) the weekly animal bazaar takes place. So I drove out of town a few kilometers to first check out the animal bazaar. The road leading to the site was already jam-packed with pick-up trucks hauling away animals. The bazaar was divided into sections selling sheep, cows and horses with the sheep section being by far the largest. I was told that a regular-sized sheep costs about US$50. Horses apparently start at US$1'000 but can be significantly more expensive.
Ok, enough sheep.
It was a really interesting experience. If you happen to be in Osh on a Sunday, you should check it out. I wouldn't go out of my way for it though as probably most towns have a similar animal bazaar.
From there I took a marshrutka to the Kelechek Bazaar in town. It is essentially dozens of old shipping containers lined up selling clothing and not really that exciting.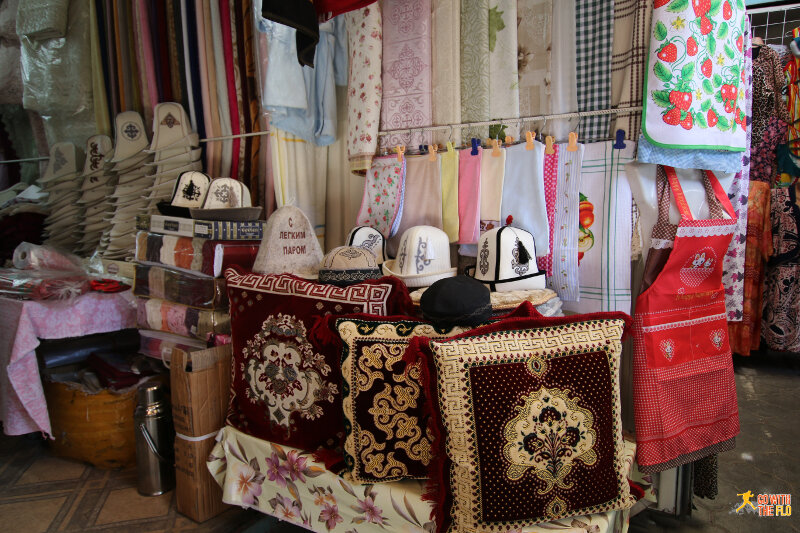 Not too far away is Osh's central market and one of the biggest of the region. It stretches along several kilometers along the river and is busiest on Sunday.
My final stop would be climbing Sulayman Mountain for the views of Osh.
After the Pamir's colder climate, it was nice to be back in a warmer place once again. But after walking around in the hear for several hours, I was also looking forward to a relaxed afternoon/evening in the hostel and sharing travel stories. I am still going in parallel to some of the Mongol Rallye teams and their stories are always worthwhile listening to.