The Golden Triangle: Chiang Rai
A region that has been on my bucket list ever since visiting Chiang Mai has been the area surrounding Chiang Rai, in Thailand's most northern corner – bordering Laos and Myanmar.
There happen to be direct flights from Chengdu to Chiang Rai which seemed a convenient way to connect the two destinations. So after spending some time with the adorable pandas, Sichuan Airlines flew us in a bit over two hours on a Saturday morning to Thailand – us and close to 200 hundred Chinese tourists traveling as a tour group.
Us being the only non-Chinese on the flight also meant we were the only ones not needing a visa on arrival. We were lucky because there aren't that many international flights arriving in Chiang Rai (read: barely any) so immigration can take a while. After renting a car (a first for me in Thailand), we were on our way to our hotel (kind of like a four room homestay) around 20mins north of Chiang Rai. If you're looking for something quiet, I can recommend Bambuh Homestay – but you've been warned; it is far outside the city and you'll need a car.
We quickly made our way south of town to visit one of the main reasons I had wanted to go to Chiang Rai: Wat Rong Khun or more commonly known as White Temple. Local artist Chalermchai Kositpipat designed and built this temple which only opened in 1997, so it is still relatively new compared to the other temples you're likely to visit in Thailand. Its design is quite unique: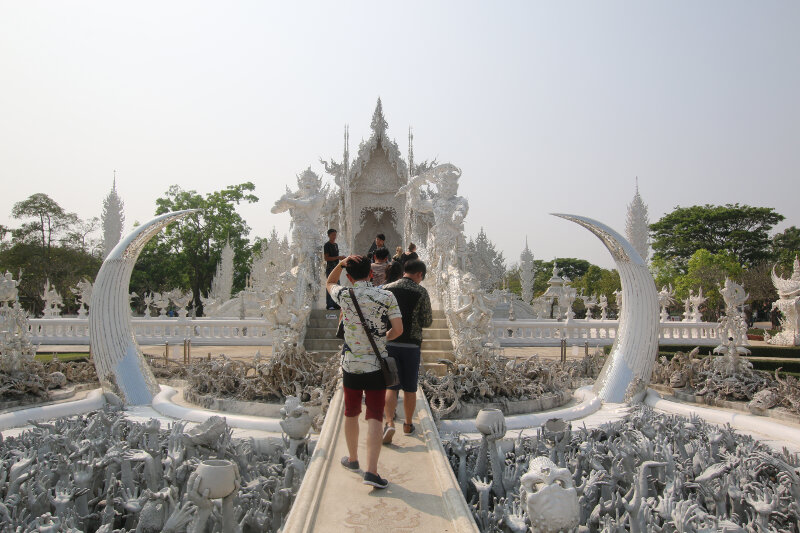 It was well worth the visit and truly a remarkable work for art. Unfortunately the sheer number of tourists and their selfie-obsession meant that the experience walking around this religious structure was not that enjoyable.
We headed back into the city and started to wander around Chiang Rai.
We were lucky in the sense that we visited on a Saturday when the once weekly night market takes place. It is probably one of the larger ones I've ever seen and did not feel overly touristic but rather the locals from the surrounding areas seem to visit. We really enjoyed the atmosphere and of course the street food. Eating through the stalls, we probably had our best meal(s) of the trip that evening and spent less than any other night.
The next morning we drove north towards Mae Sai (bordering Myanmar) and from there headed East towards the Golden Triangle where we first visited the excellent Opium museum which is a must visit in the area. Sponsored by the Royal Family, it does a superb job at sharing the history of Opium and how much death and destruction the Colonialists brought to the region through its trade (no photos allowed inside):
From there it is a short drive to Wat Phar Pu Khao where you have a good view across the mighty Mekong river towards Myanmar on the left and Laos on the right:
We stopped for some great fish for lunch, overlooking the Mekong.
And wandered around the sleepy town.
We took the slow route back turning from road 1290 to 1271 to 4034 and were rewarded with gorgeous views onto rice paddies.
For dinner our host recommended us Ban Saowaga, not far from our homestay. A local Thai restaurant with live music that apparently doesn't get a lot of non-Thai speaking guests.
The last morning before flying off, I went for a run around the beautiful campus of Chiang Rai Rajabhat University.
And our final stop was another work of art by Chalermchai Kositpipat; the Baan Dam Museum (Black House) – a very strange place. Check out this link if you want to know more about the background.
With that we wrapped up our short stay in Chiang Rai province and I can say I really liked it! Great food, not many tourists, friendly people and beautiful nature. Definitely an area to bookmark and revisit.