Finally Flying Again – Off to Kyiv
2020 caught us all by surprise. When news hit in January 2020 that a new virus had hit the People's Republic of China, few folks would have predicted that just two months later international borders would be sealed off to a large extent. Traveling became almost impossible and starting April, only very few countries still maintained open borders.
Fast forward to June and gradually the tourism industry has started to recovery (slowly). Domestic tourism all of a sudden has gained popularity again. On one hand because travelers feel safer in their own country but on the other hand also because rules and regulations on international travel had gotten so difficult to keep track off. Why book a trip now, if you don't know what the entry regulations will be in a month from now or requirements to quarantine upon your return.
I had been following news regularly and after two trips to Germany from Switzerland, was ready for my first trip outside Schengen. Ukraine had recently opened up again. After researching government websites (in Ukrainian), it finally looked like Swiss residents were on the "green" list and could enter without problems. But the amount of time one has to invest to figure out what is really the case, will mean tourism will continue to be slow as not everyone is inclined to invest so much time on research. Just a few days before my departure, the Ukraine had put up a neat website summarizing all the information of the various involved state agencies.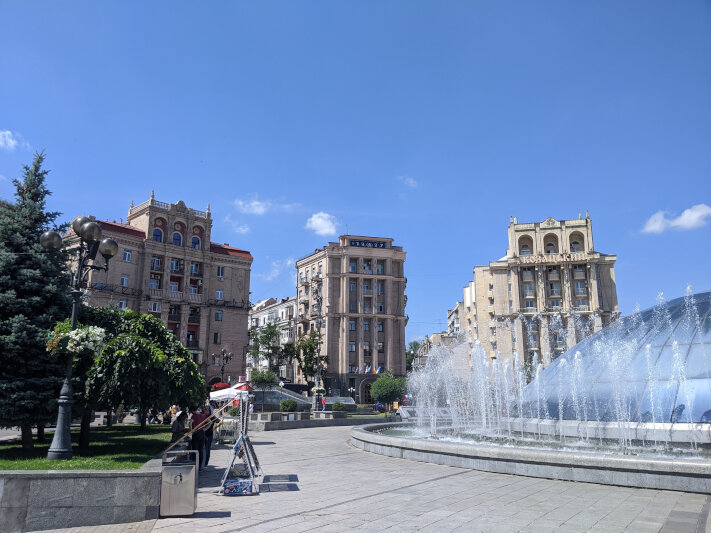 Kyiv's Boryspil International Airport was my destination and was eerily quiet upon my arrival on a Friday afternoon. Thanks to ride-hailing apps I was off to my AirBnB near the Independence Square very quickly. By now I usually prefer a (semi)-professional AirBnB apartment over a hotel – wider choice on location and no endless hallways to walk down.
Upon recommendation of a friend I had tried to book a Chernobyl Tour. But one downside to barely seeing any tourists in the city is that I also appeared the only one interested in such a tour hence it did not happen.
The city center is easily walkable. The Independence Square (Maidan Nezalezhnosti), which you might remember from 2014's deadly protests which eventually toppled the government, was the start of my afternoon tour exploring the center.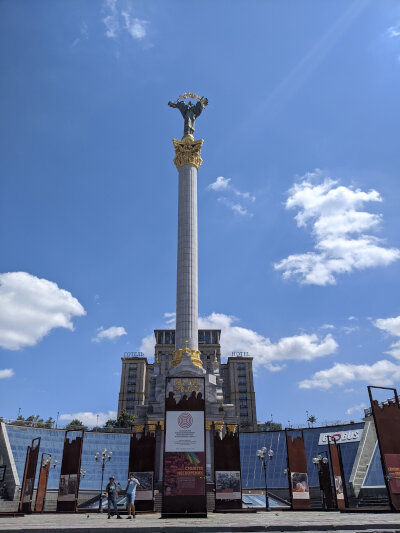 Not far away is Lyuteranska Street which has been renamed numerous times over the past century.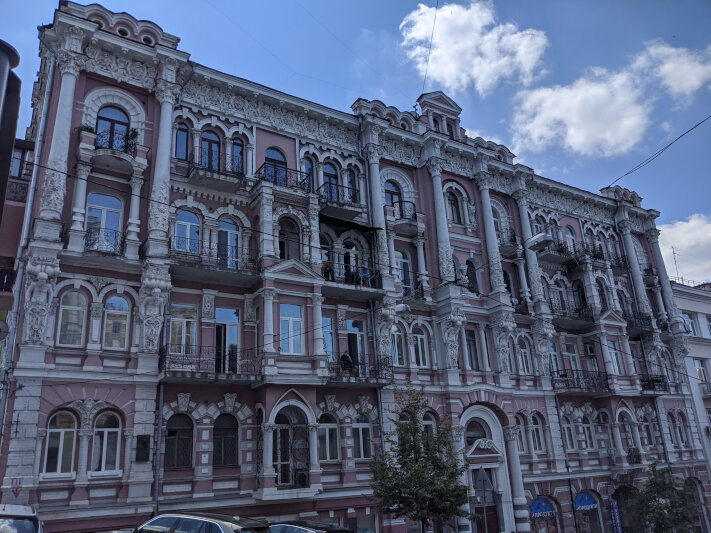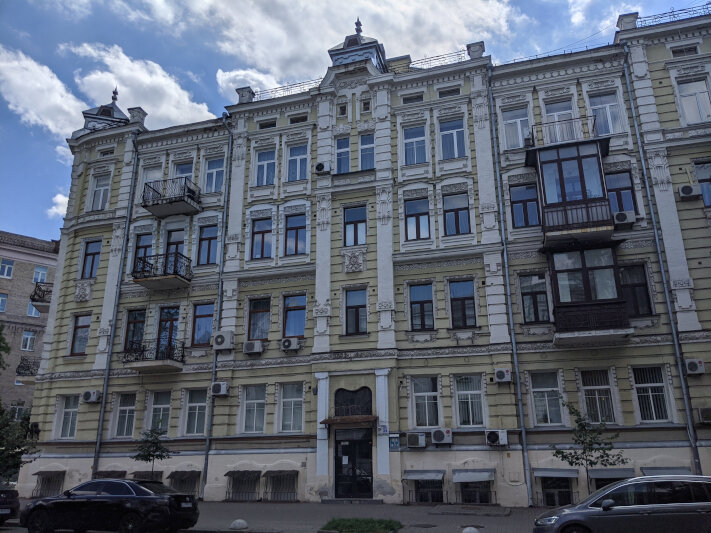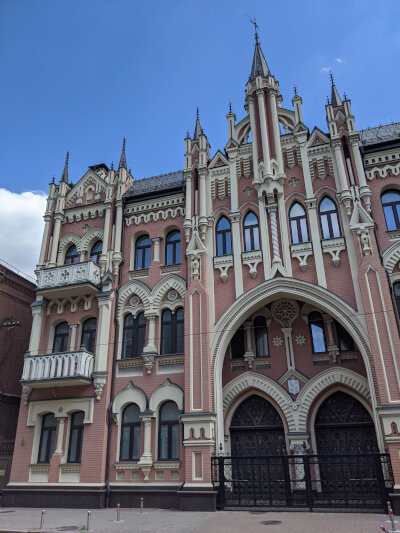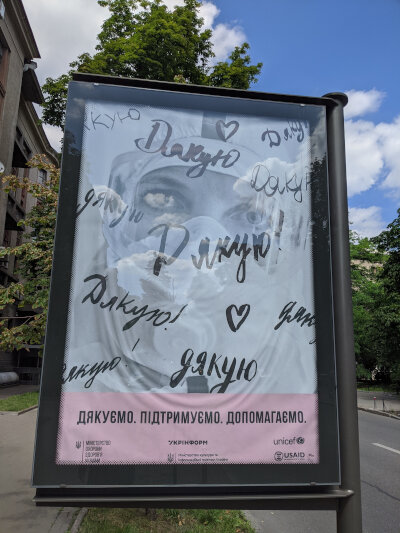 After a short walk I reached Mariyinsky Palace, the ceremonial residence of the president.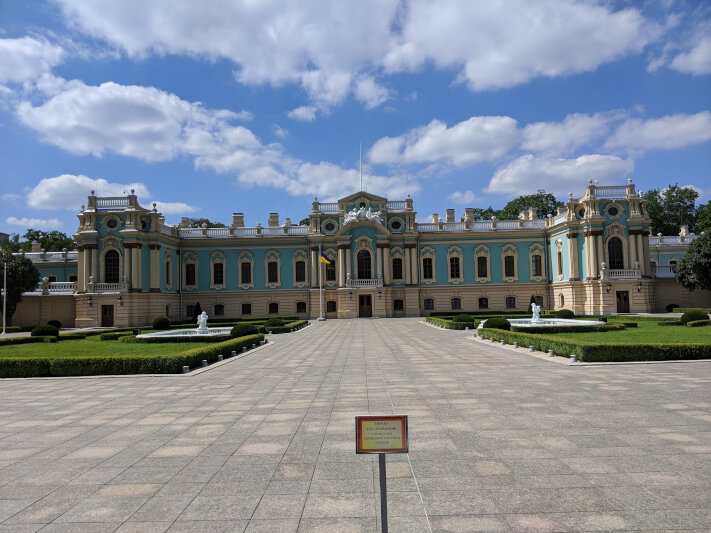 Just behind it is a large park which also houses the Dynamo Kyiv football stadium and offers great view across the Dnieper River.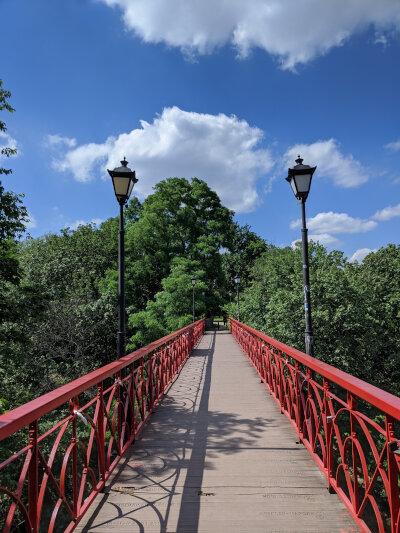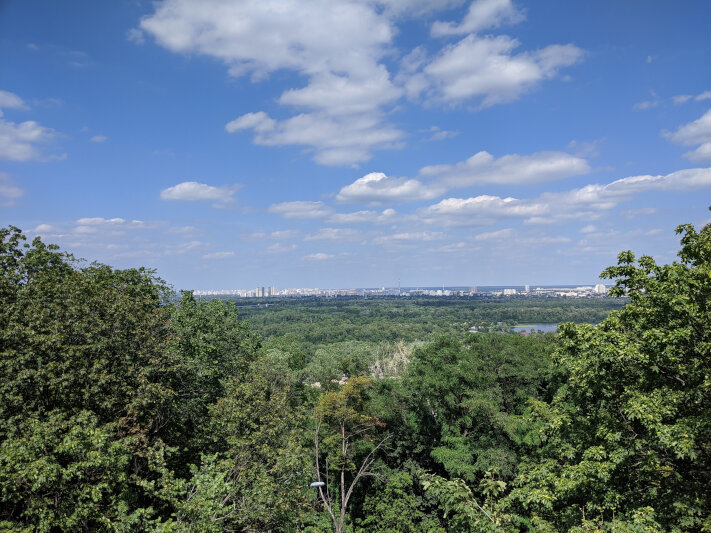 Around the corner is the Friendship of Nations Monument. It was constructed in the 1980s in honor of the 60th birthday of the USSR and remains a controversial symbol today of Ukraine's troubled relationship with Russia.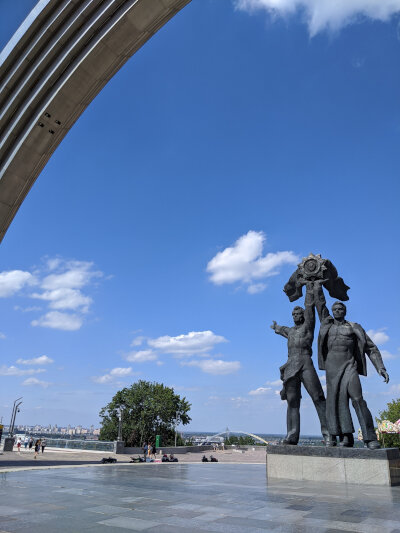 Not much further is St. Michael's Monastery, a still very much active monastery. It was constructed in the centuries leading up to the 18th century and partially destroyed by the Soviets but rebuilt following Ukrainian independence.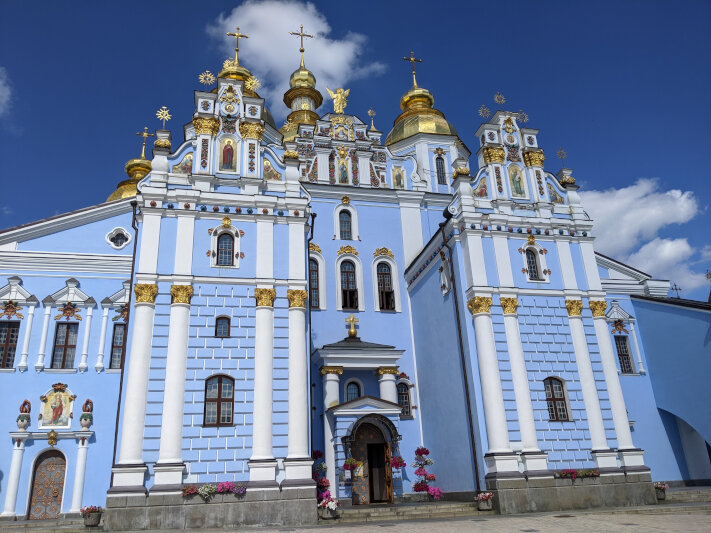 If you're up for some more golden domes, just walk up the road to St. Sophia's Cathedral, Ukraine's first UNESCO World Heritage Site. It was named after Istanbul's Hagia Sophia and while construction started in the 11th century, it took several centuries to complete.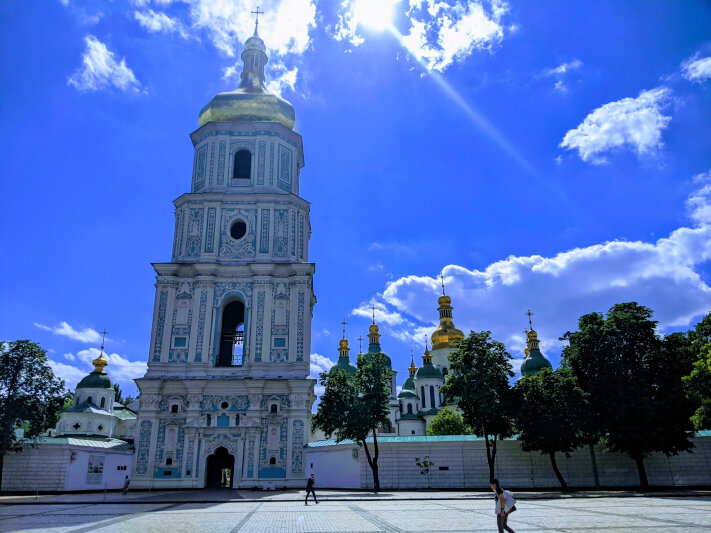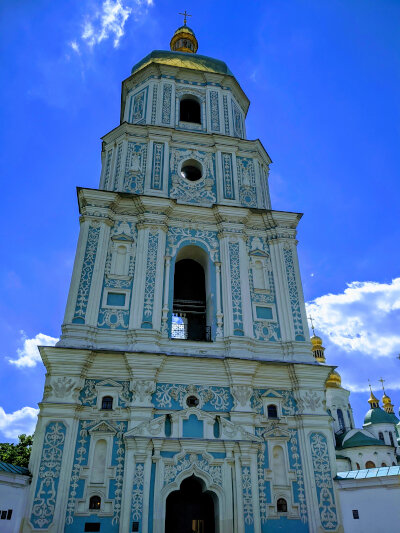 After getting some rest, I continued my pleasant walk and eventually reached St Andrew's Church. It apparently has no bells because legend has it that its noise would cause the left side of the city to flood.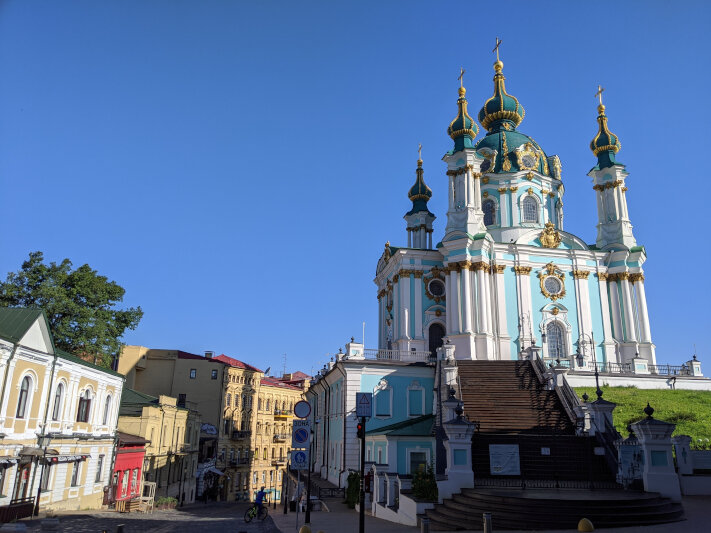 A bit further I reached the Square of Contracts, an important part of the Podil merchant neighborhood.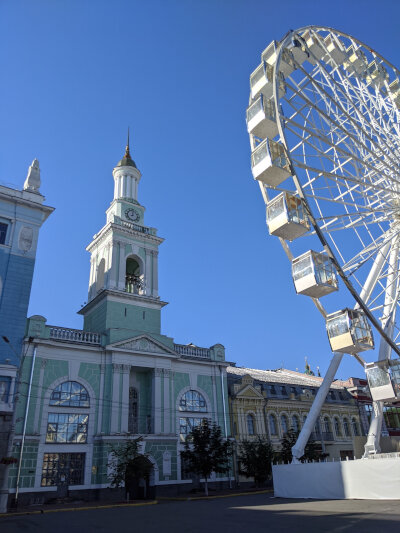 That was enough walking for the day and I took the subway to Hydropark to spend the rest of the afternoon at Hydropark, a recreational island with lots of public beaches and restaurants. It was a perfect July afternoon with not a cloud in the sky and crowds getting ready for the weekend.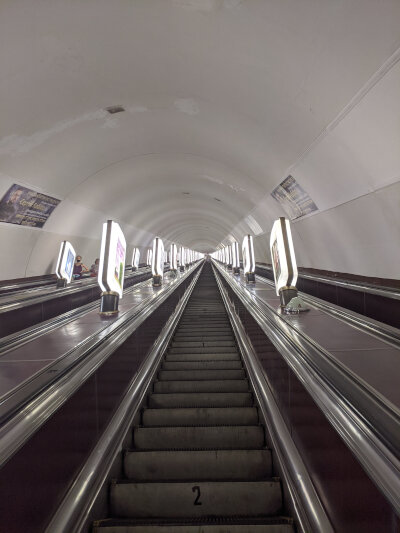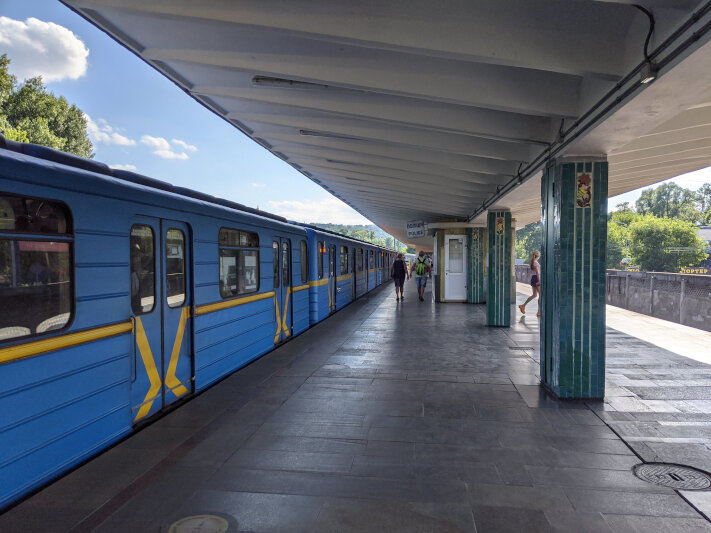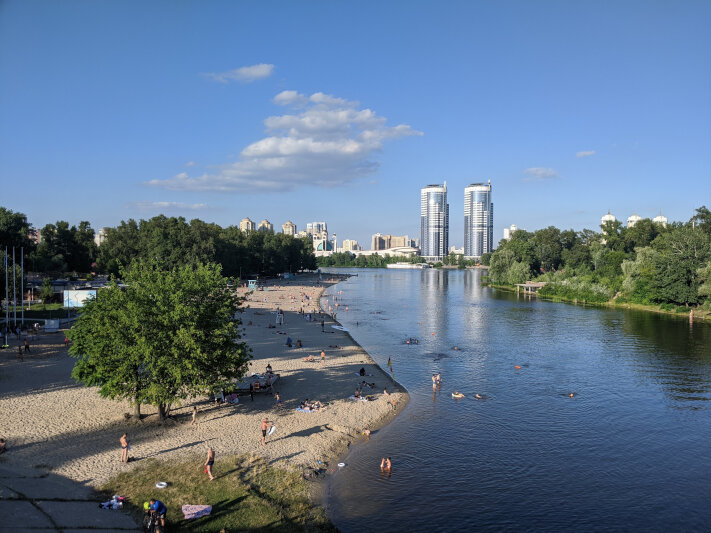 My dinner destination that night was the Podil neighborhood at the lovely Тісто, сир і тітка Белла restaurant specializing in Italian cuisines (I was caught off guard when every employee greeted me with "buona sera").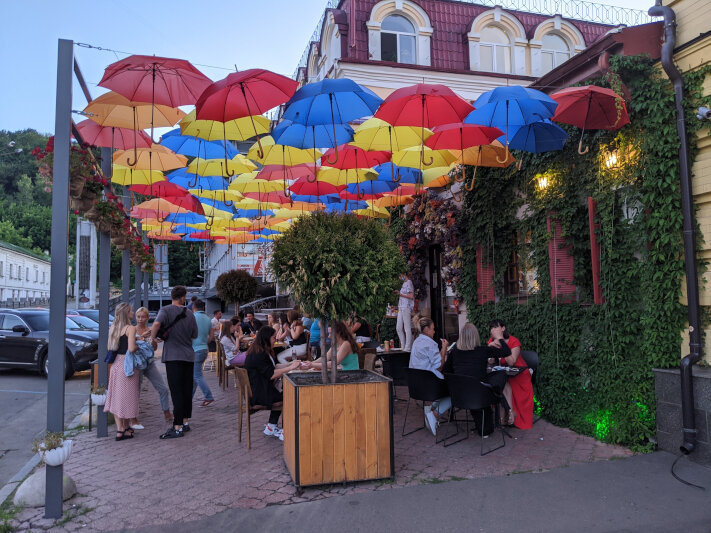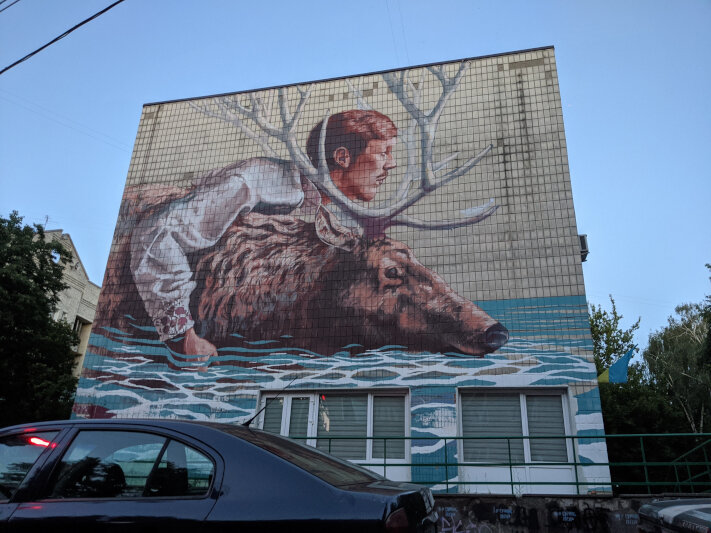 The next day I made sure to visit the mighty Motherland Monument, a 62m tall stainless steel statue looking across the river. Just for scale, the sword is 16m tall. While Ukraine has been trying to get rid of Soviet symbols and statues, despite a decision to remove the Soviet emblem on the shield of the statue, it is still there and visible.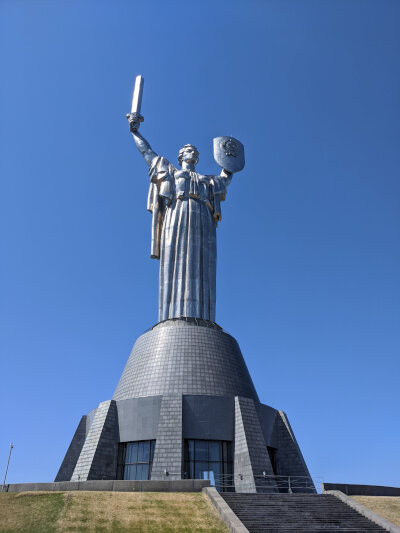 The statue is part of the National Museum of the History of Ukraine in the Second World War complex which also contains sculptures depicting the Ukrainian people's fight against the Nazi invasion.

After lunch I visited the Besarabsky Market, an indoor market housed in the building dating back to 1910. It was eerily quiet, maybe because the time of day but maybe also because it might have become a bit touristy and tourists simply were not around.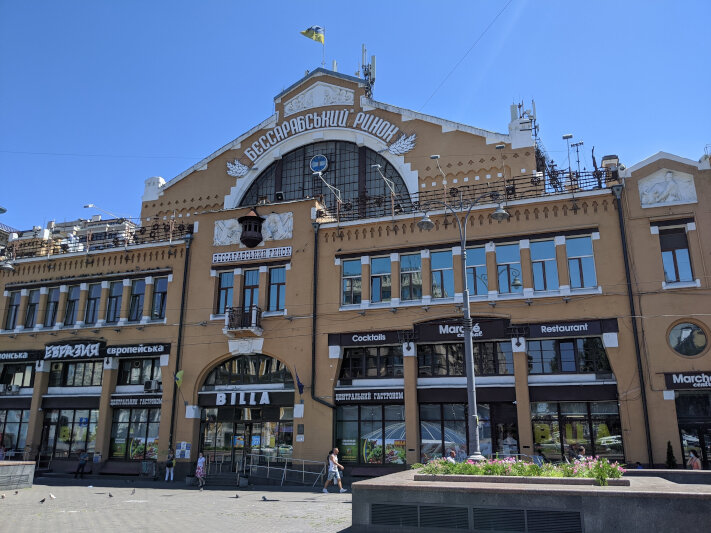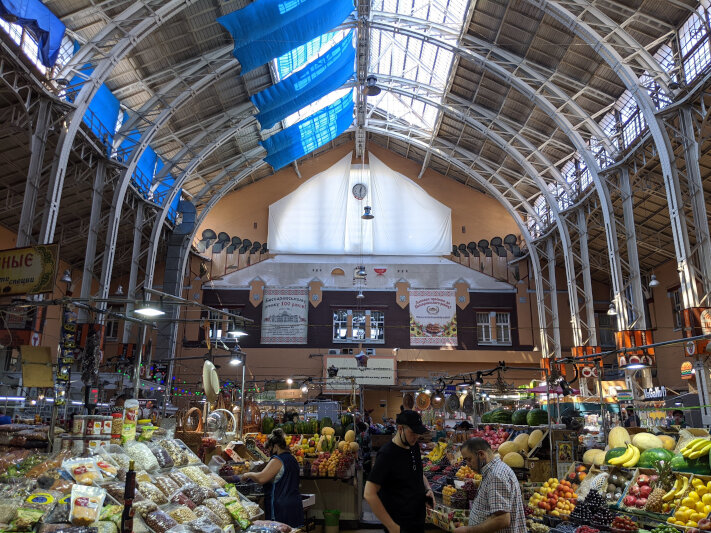 It was quite hot once again and time to head to the beach and cool off. I walked across the pedestrian bridge to Trukhanov Island, another very nice beach right in the center (or at least almost) of the city.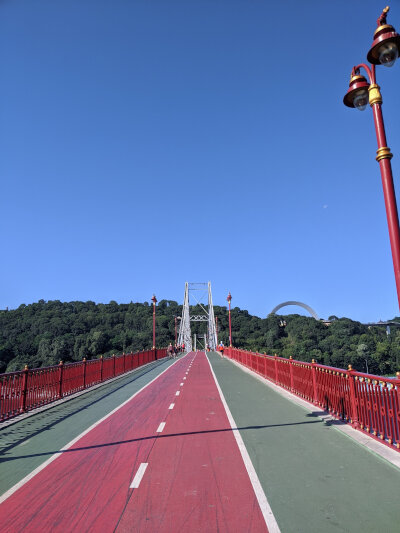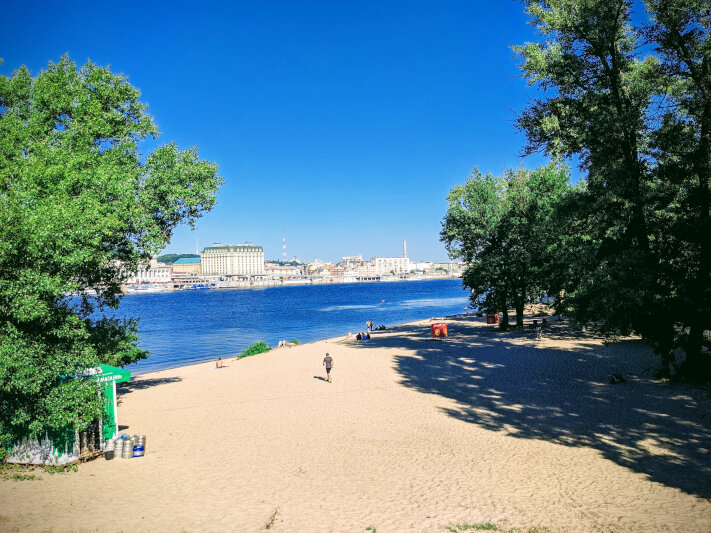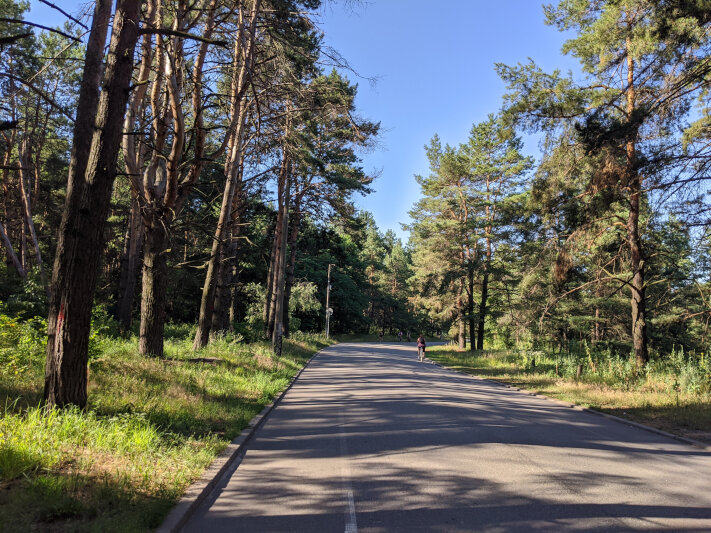 If you're on Kyiv during a weekend, make sure to stroll up and down Khreshchatyk during the evening to soak in the atmopshere of families out and about.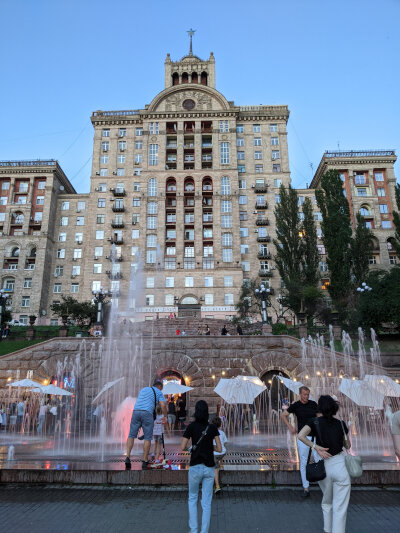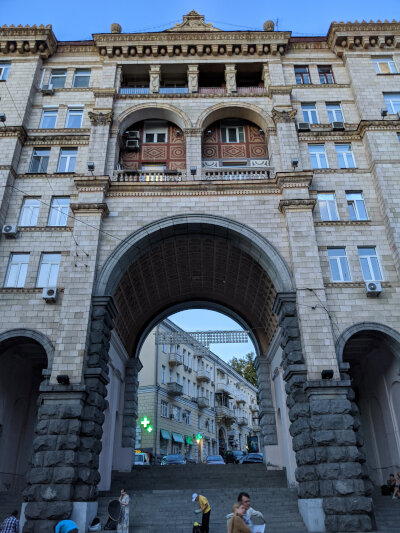 And with that my weekend in Kyiv was almost over again already. A city that is truly worth a visit and I wish I had more time to make this a start of a tour around Ukraine as there seems to be so much more to discover.