Singapore: Sungei Road Thieves' Market & Rochor Canal
I don't think anybody would deny that Singapore has plenty of shopping opportunities for all budgets. Development for new, glitzy shopping malls is constantly ongoing and regularly a new one pops up somewhere.
Probably the most extreme opposite to these shopping malls one can get is a visit to the Sungei Road Thieves' Market, located next to the rejuvenated Rochor Canal near Jalan Besar.
It's your typical flear market, albeit a very basic one. There's a reason why it (used to be) called "Thieves' Market":
After World War II, Sungei Road and its surrounding roads became a flea market better known as the Thieves' Market, because all sorts of second-hand merchandise as well as contraband goods were sold here. The peddlers may change from day to day and there were no receipts, so refunds are impossible. Until the British Army withdrawal in the late 1960s, it was also a place to buy army merchandise like uniforms, army gear and other army surplus, possibly looted earlier from British military stores. The open air market soon acquired a bad reputation as the major dissemination venue for stolen goods that would last to the present day. If an item was "lost" recently, people can try their luck in looking for it at the Thieves' Market, and buying it back from the sellers who will always claim no knowledge of its source.
However with Singapore's crime rate so low nowadays, I don't think the name is still justified.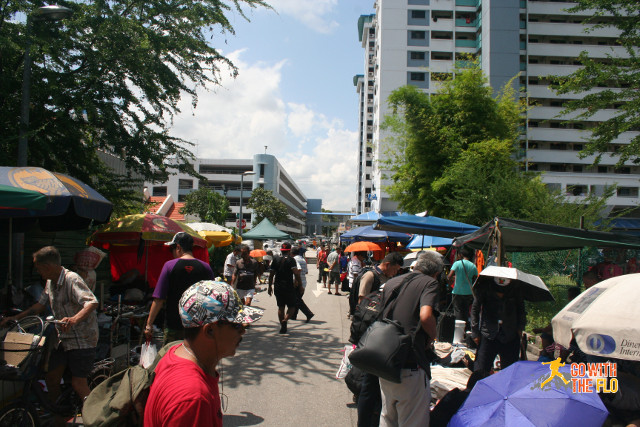 It is one of the more random assortments of goods that I have seen in a while: coins from all over the place, new and used jeans with mostly bad cuts, ironing boards, cell phones both old and ancient, all kinds of lucky charms… the list goes on. The market is rather small and covers Pitt St and Larut Rd. I've seen it open on weekends and am not sure about weekdays.
You can combine a visit with a stroll along the newly designed Rochor Canal which just opened in March 2015. The authorities have done a great job at creating a stretch to relax and go for a walk.