Gran Canaria: the southern coast
After a great day in the mountains, we headed south towards the coast. I knew all along that that section of the island would be by far the most touristy, full over overdeveloped resorts. Nevertheless, I wanted to see what it was really like.
We first stopped at the dunes of Maspalomas. I was pleasantly surprised – right next to an overcrowded beach are these big dunes and if you crop the photo right, it really looks like you could be somewhere in a desert (unless you see the ocean in the background):
About a 20 minutes walk from the dunes, we stopped for lunch at Playa del Ingles. Wow. That was bad. Really bad. Dozens of stalls, all with identical menues, consisting of pages and pages of junk food translated in about six languages. Apparently the predominately English, German and Scandinavian guests prefer spaghetti, lasagna, fish and chips and other similar dishes over local cuisine. While the beach was decent, it really wasn't a place where I'd want to spend much time, save for my entire vacation.
We headed back to our rental car and started driving towards our hotel. A quick word on hotels. When I booked the trip, based on the fact that flights were cheap and school holidays were over, I guessed that high season was over and hotels should be readily available. Wrong. Everything was sold out and the few places that were still available charged outrageous amounts for what they offered. I have no issue paying a bit more for a hotel but if its a crappy hotel for a four star price, I am not down for that. The solution ended up being the Sheraton Salobre Golf Resort on points. 10'000 points got us a standard room at this very nice resort.
While it was chilly because of the strong winds, we nevertheless enjoyed an afternoon in the sun.
The next morning we continued our drive along the coast and first stopped in the town of Puerto de Mogán. While definitely very picturesque, it was at the same time also extremely touristy and more or less devoid of any local life. Nevertheless worth a small detour for the views.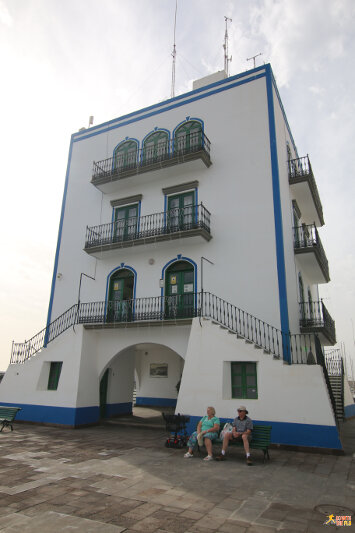 We again faced the same issue of overpriced accomodation with little choice. One of the few decent options was an apartment hotel, the Cala Blanca. For some reason, they two-bedroom apartments were cheaper than their one-bedroom units and we ended up staying at large unit for less than 100 Euro per night. The hotel is located in a bay called Taurito. I have never seen anything like it. The whole bay was covered in hotels. There was no local house or anything but just the entire bay covered in hotels, most of them ugly, some abandoned. While the views were beautiful, it just felt somewhat wrong staying in a place with such a lack of character.
We were glad to be moving on to the northern coast the next morning.
While the scenery in the south is stunning, it is remarkable how the coast has been sacrificed to mass tourism. I'm sure it has created a lot of jobs and is currently doing extremely well with all the uncertainty ongoing in Turkey, Tunisia and other "competitors". But it just wasn't my cup of tea really.