Georgia: around Mount Kazbek
I think a new post on my blog is long overdue. I haven't had the time to blog as frequently as I would have liked and also haven't been on the road as much. There is one or the other getaway however that I'd like to share.
I took advantage of one of the long weekends recently to explore the country of George. While we only had four days / three nights, I think we got a fairly good impression of what is a beautiful country.
I'll split the trip into three instalments: driving up north to Stepantsminda with the backdrop of gorgeous Mount Kazbek, the wine region of Khaketi and finally the capital city of Tbilisi.
We landed in Tbilisi early on a Thursday morning and were picked up by our driver for the next two days, Irakli. A friend had recommended him. He did not disappoint and neither did his car:
We immediately headed north and after some time stopped at a gas station for drinks. Yes, that's a wide range of vodkas on offer.
We continued following the Georgian Military Road up north and stopped at Ananuri, a castle complex on the Aragvi River.
It was built in 1689.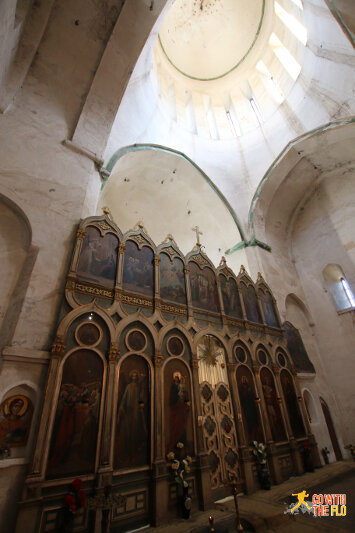 We made good progress – there wasn't much traffic and the roads are in good condition. After about an hour we reached the Russia–Georgia Friendship Monument.
The views of the surrounding mountains are gorgeous:
Just a short drive up north we reached the Jvari Pass at 2,395 metres.
We had then almost reached Stepantsminda, at the bottom of the might Mount Kazbek. We had booked the Rooms Hotel Kazbegi, probably the poshest place in town. Apart from the large group of young Russians that were on a company retreat, we really liked the hotel and highly recommend it.
The next morning we chartered a 4×4 Lada to drive us up to the famous Gergeti Trinity Church. Situated at 2,170m, it was built in the 14th century (just imagine…) and one of the most famous landmarks of Georgia.
Photography inside the church is forbidden.
After enjoying the views thoroughly we drove back and made it to the hotel in time for a sumptuous breakfast buffet. It would have been nice to stay a day longer and hike in the region but we continued our road trip through Georgia onwards towards the wine region of Khaketi…