Georgia: the Wine Region of Khaketi
After enjoying the scenery of Stepantsminda and Mount Kazbek, we were ready to explore another famous part of Georgia, the Khaketi Wine Region. The country has been producing wine for centuries, and will not particularly well known, the wine is apparently very good.
In our group we had a wine aficionado who did most of the research on where to go and what to taste. So I was happy to just tag along. Our first stop was Château Mukhrani. Look at the building! The wine must taste good at such a place!
We were given a tour of the wine cellar and the production facilities.
The tour ended with a tasting of their wine and local cheese. Let's just say we already bought way more than intended at our first stop.
We continued our drive west towards Telavi, where we would spend the night at Villa Schuchmann. On the way we encountered some folks who looked like they just came out of an extensive wine tasting.
Villa Schuchmann turned out to be another excellent choice for accommodation.
Like many wine estates, Villa Schuchmann also produces wine in the traditional Georgian way where the wine is kept in large Kvevri made of clay underground.
The next day we had a tour ahead of us to multiple wine estates. We started with a visit to Winery Khareba in Kvareli.
For lunch we stopped at Pheasant's Tears in Sighnaghi.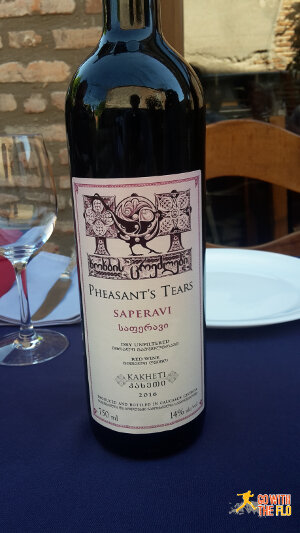 Nearby is the Bodbe Monastery.
We started to make our way to Tbilisi, where we would spend our last night. But not before one last wine tasting – this time at Kindzmarauli Corporation Wine House. Again we were not disappointed and made sure we all maxed our our duty free allowance.
Even if you're not really into wine; touring the wine region of Georgia is fun and prices very reasonable!