A Weekend in Baghdad / Iraq
So… it has been a while since my last post. Close to three years. But I hope to get back into the groove of blogging every now and then. Here's a recap of my most recent trip.
Similar to my weekend in Eritrea, I was faced with some expiring miles. Turkish Airlines was running a promotion at the time, and I ended up booking a return business class flight to Baghdad for 50k miles. Over the next couple of weeks I spent quite some time reading up on the current situation in the country and went through several trip reports of travelers who had recently visited.
While most embassies discourage non-essential travel to Iraq, the country started issuing hassle-free visa on arrival to tourists in 2021. The security situation seems to have improved over the past years and cannot be compared anymore to the previous decade.
I've had Iraq on my list for some time. Kurdistan in northern Iraq has been accessible to travelers for quite some time and for the past year or so the number of visitors to Federal Iraq (i.e. Baghdad, Basra etc) has increased as well. One point which has kept me from visiting is the fact that a travel history to Iraq makes you ineligible for ESTA when traveling to the USA. While that might have changed recently (conflicting info online), I got myself a visa for the USA last year.
Air connectivity to Iraq has improved and Turkish Airlines along nowadays flies direct from Istanbul to Erbil, Sulaymaniyah, Kirkuk, Baghdad and Basra.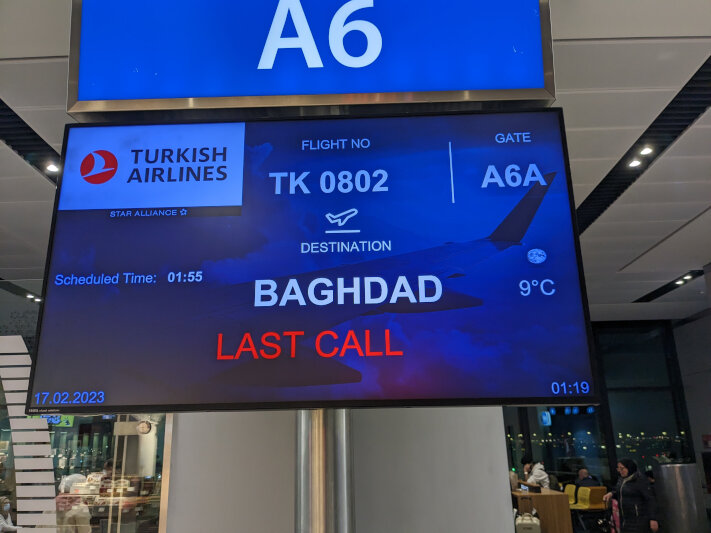 I arrived on one of the up to three daily flights from Istanbul (IST) – there are also two daily flights from Istanbul's Sabiha Gökcen Airport. It is a brutal red-eye, departing at 2am and arriving just before 5am.
The visa-on-arrival is really straight forward. There's a small desk in the immigration area where you deposit your passport and fill out a form. They wait for all passengers from the same flight and then proceed with the passports to their office. We ended up waiting around 45mins. Alongside myself there were some businessmen from Europe, a bunch of archeologists from Austria and a Scottish YouTuber. Once they return with the passports, they call your name and you hand over 77 USD in cash. Unlike other countries, you don't pay at a separate bank counter but rather just hand over cash to the immigration official. No receipts are handed out. I then proceeded through immigration without any issues.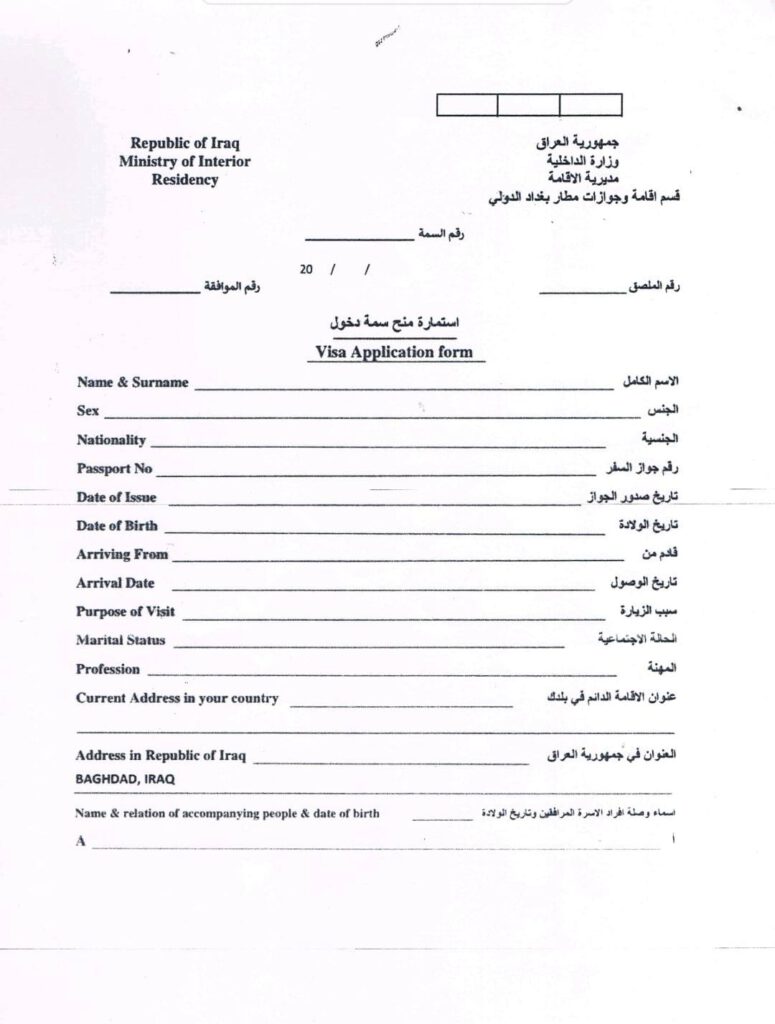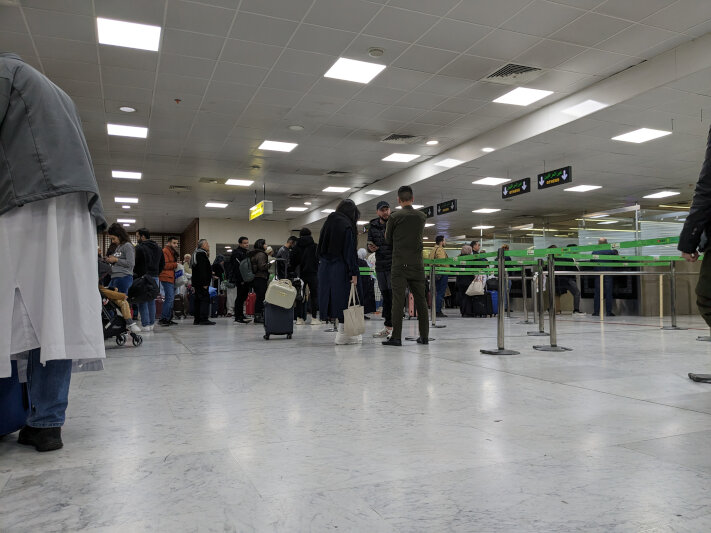 Getting from the airport to the city is a bit unusual compared to other countries. I guess still because of the security situation, the general public is not allowed to drive to the airport and instead only minivans from/to Abbas Ibn Firnas Square (name after the 9th century inventory who is said to have experimented with flight) can drive to the airport. And a single taxi company, AlMumayaz. They charge 50k Iraqi Dinar (IQD), the equivalent of 33 EUR to anywhere in the city. The Scottish YouTuber had already booked a taxi and kindly let me ride into the city with him. By the time I was in the hotel, it was shortly after 7am and my hotel (Noor Land Hotel) kindly let me check-in so I could catch some sleep.
I arrived on a Friday and hence prayer day. I read on several blogs that Old Baghdad would be busiest on a Fridays. Unfortunately it was almost deserted. I later found out that the night prior was the start of a religious holiday (I'm guessing Lailat al Miraj; Prophet's Ascension) and hence most people stayed home.
The old town is easily walkable and includes sights such as Al-Mutanabbi Street, Shabandar Café, Qishleh Clock, Safafeer Market, Mustansiriya Madrasah, Baghdadi Museum and the Abbasid Palace.
Mutanabbi Street (شارع المتنبي) is a street lined with bookstores, both indoors and outdoors. It is considered the center of the Baghdad literacy and intellectual community. On my first day it was really quiet but I returned again on Saturday and it was thriving.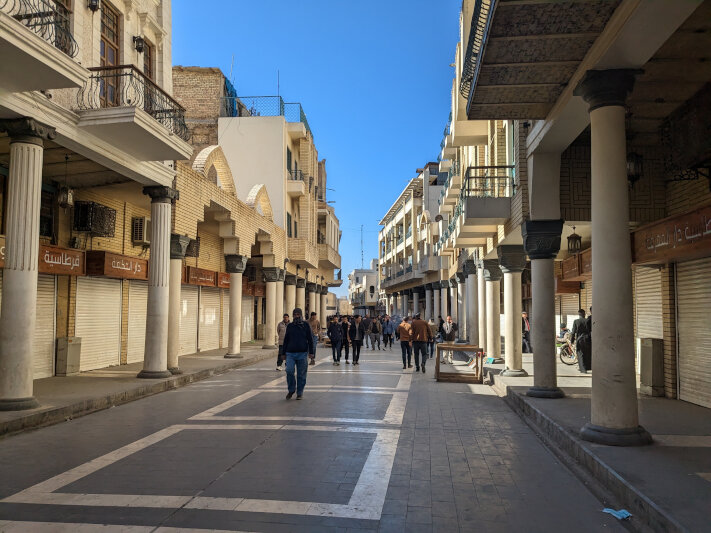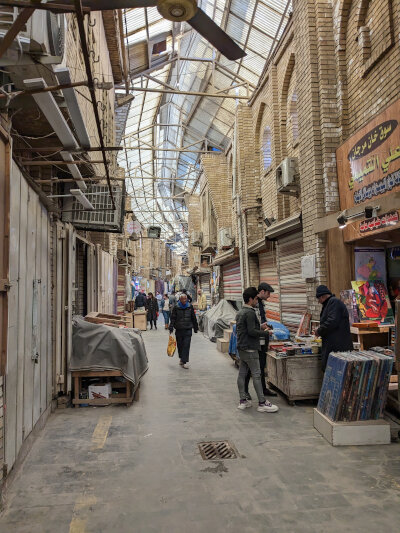 In the surrounding area you get a feel for what the vibe must have been decades ago. Many buildings are in decay though unfortunately.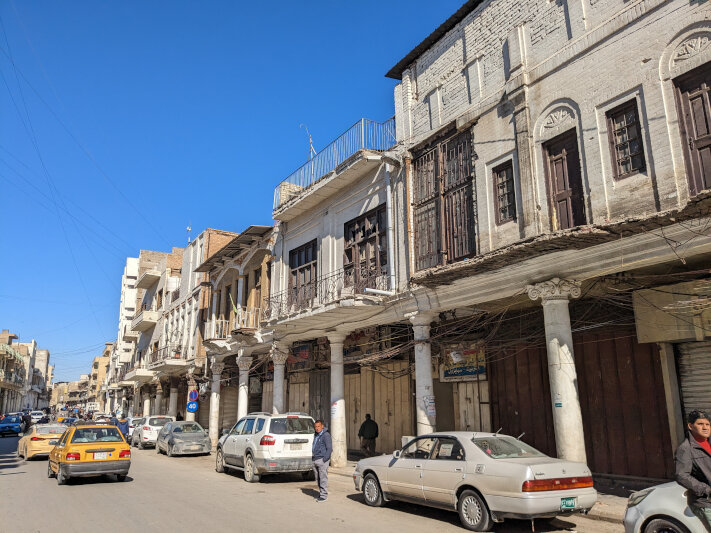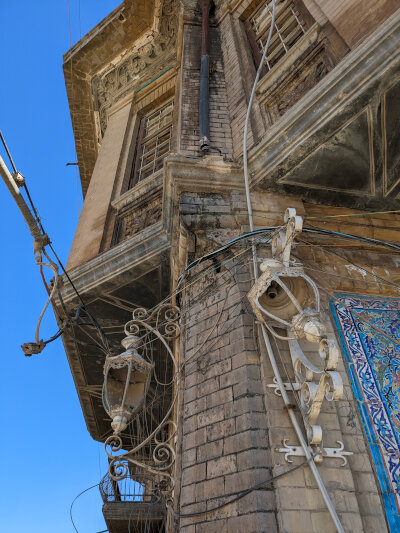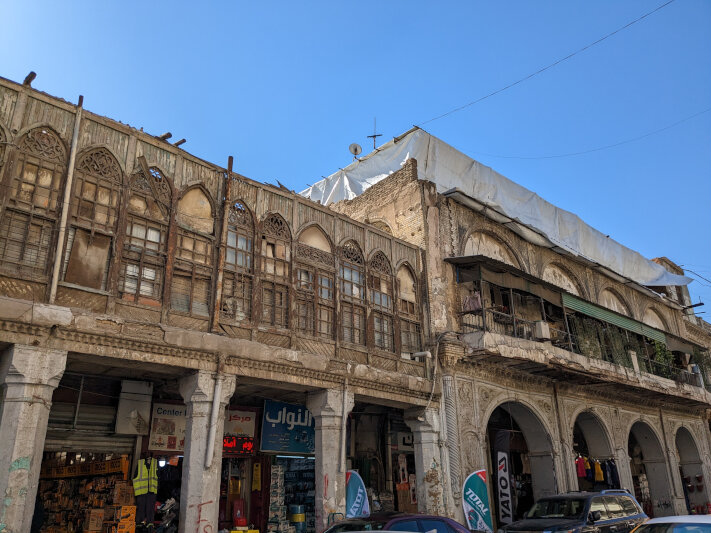 I stopped for tea at Mdalal Cafe, a traditional tea house. Here I experience something I would encounter again several times: the waiter refused payment. One of the rare places on earth where tourists are still so exotic, that they are invited for drinks. (regularly, a tea would cost around 500 IQD (35 cents).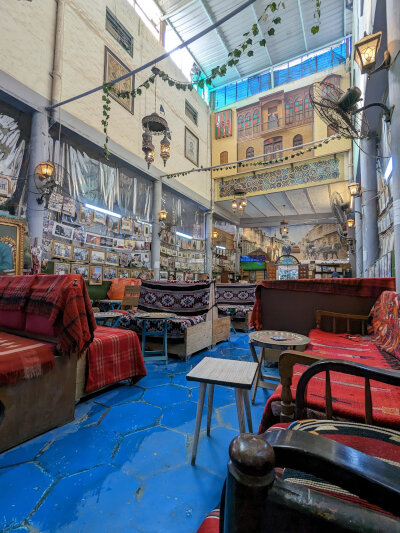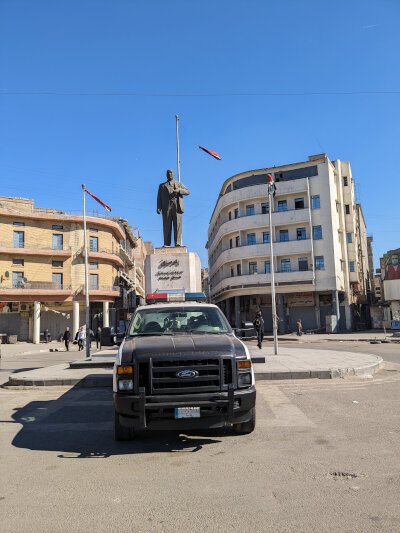 I stopped for grape juice on Al Rasheed Street at Hajji Zabala (عصير حجي زبالة), where again they wouldn't let me pay.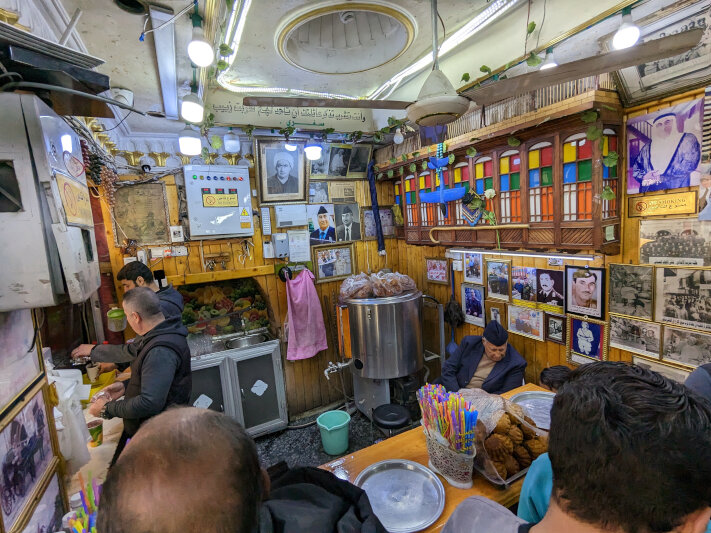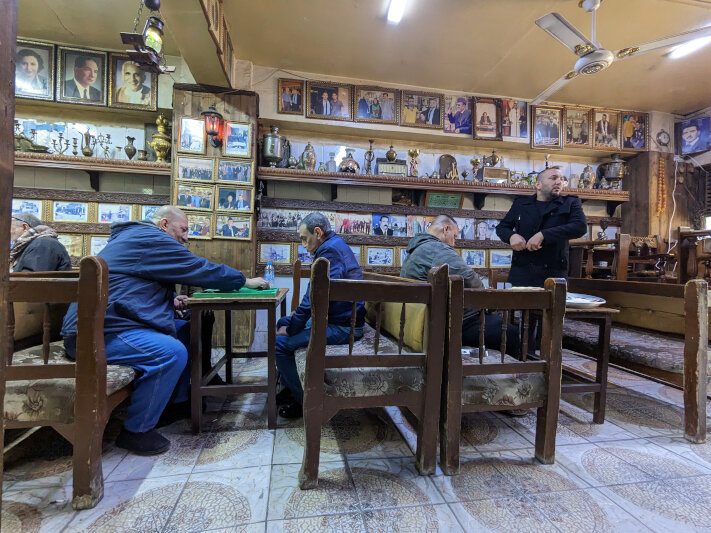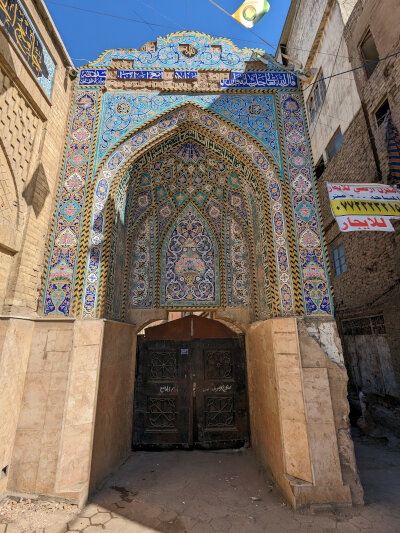 Close by is also the Mustansiriyah Madrasah, a university dating back to the 13th century. Unfortunately it was closed when I was there.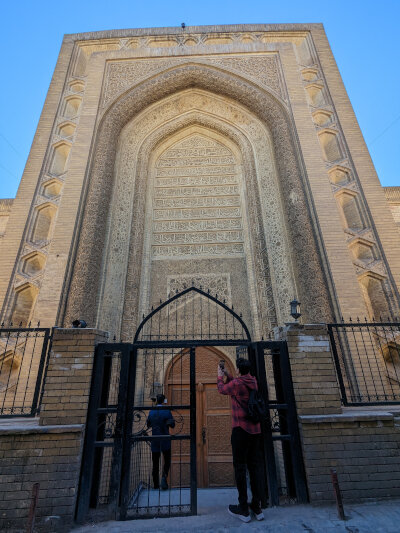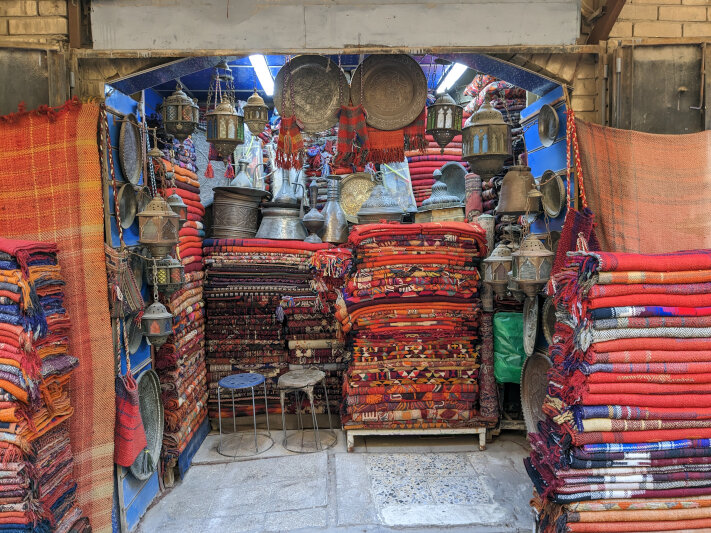 Also worth a visit is the Safafeer Copper market. The number of true coppersmith seems to be dwindling but nevertheless the alley has a very unique and authentic feel and smell.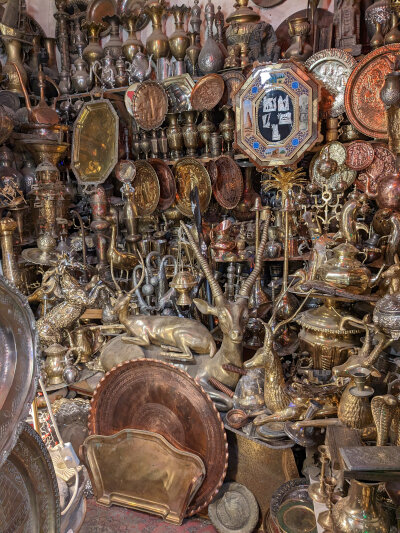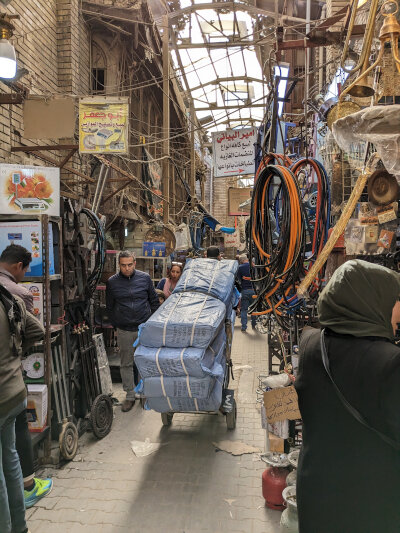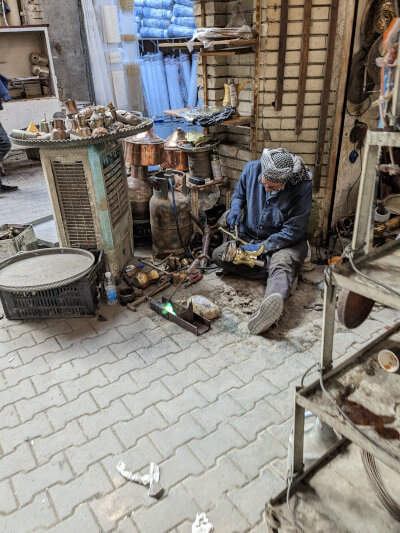 Also within walking distance is the The Church of the Holy Mother of God, an Armenian church. There is an estimated 10'000 to 13'000 Armenians in Iraq, half of which are said to be in Baghdad. It used to be a much higher number but after the fall of Saddam Hussein, the community had come increasingly under attack.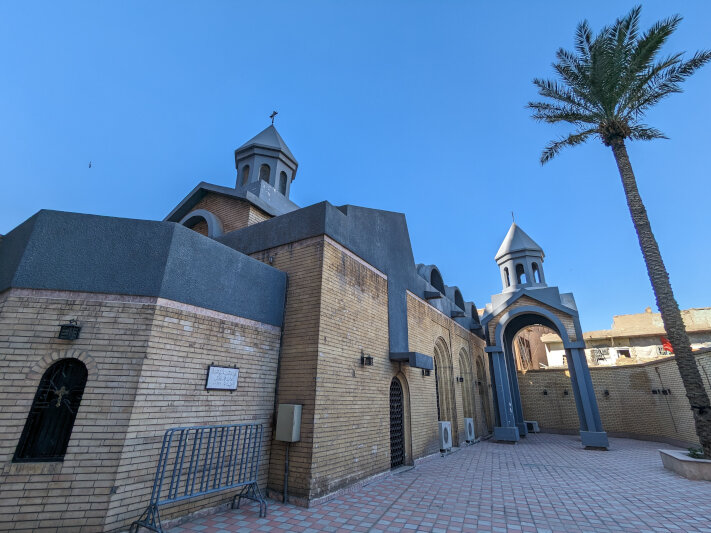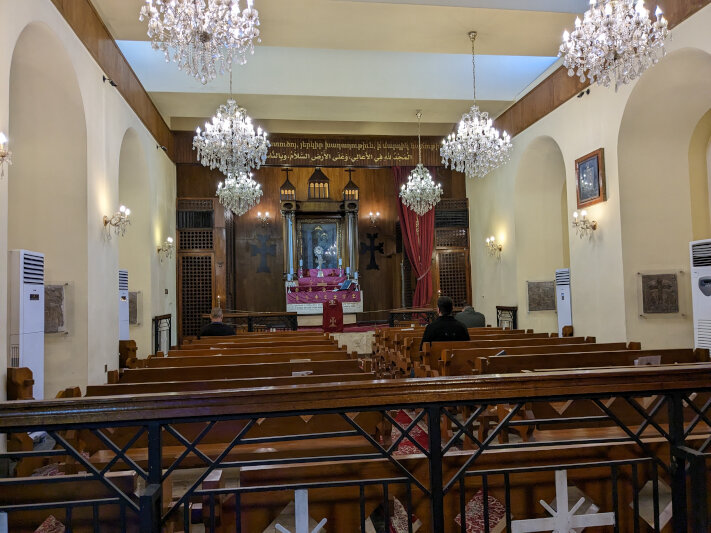 There are several Catholic churches in downtown Baghdad as well. Here's the Church of the Sacred Heart of Jesus (كنيسة قلب يسوع الأقدس) which I walked past.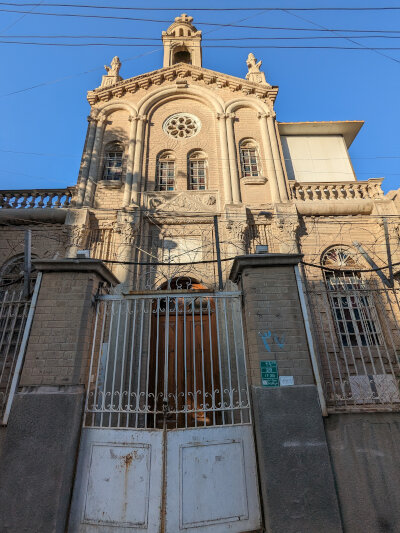 At some point it was time for lunch and I took a Careem (the Middle Eastern version of Uber) back towards my hotel and enjoyed some food at Kibbeh Al-Baghdadi Restaurant.
They don't have a menu and only serve one dish: Kuba. Iraqi Kuba or Kibbeh are rice and potato balls filled with mince meat. I give it a five star rating.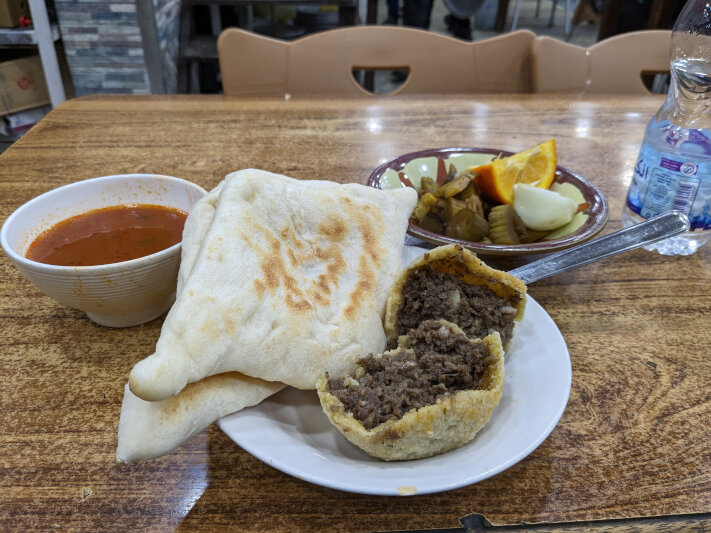 I spent the afternoon catching up on sleep and wandering around the neighborhood I was staying in, Karada. An upscale neighborhood, my hotel was next to the local BMW dealership and several Western fashion stores like Calvin Klein.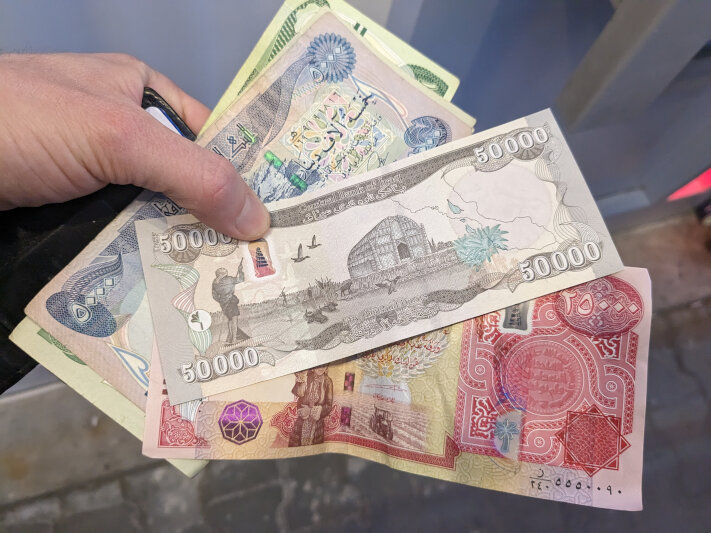 I stopped by a co-working space called The Station. It could have been in Dubai or even somewhere in Europe with a young crowd working relentlessly on their laptops.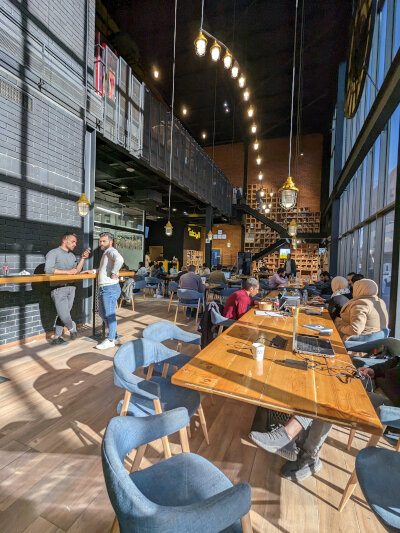 For dinner I followed the recommendation of many previous travelers and headed to Darbunah. You can tell someone has poured a lot of love into the place. It is located in a lovely building and serves most of the traditional Iraqi dishes (I found the cuisine to be quite similar to Turkish food).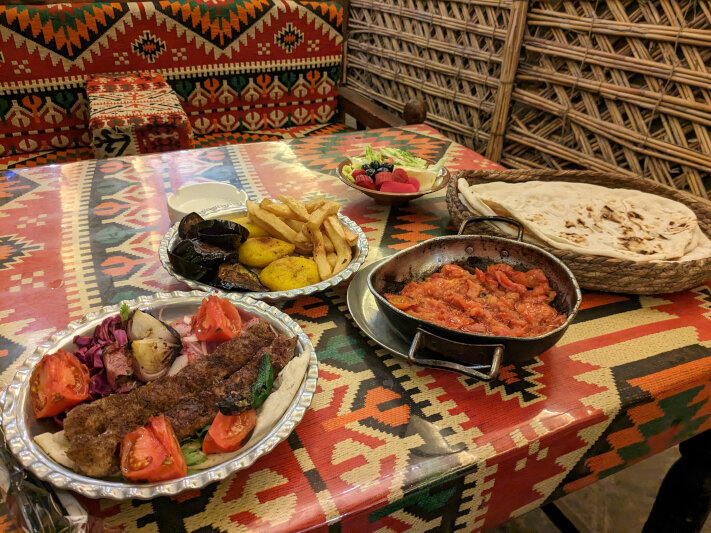 I started the second day with a run along the Tigris river. It was the only time I didn't feel entirely safe; on one hand because of the traffic (runners are not exactly a common sight in Baghdad for drivers) and on the other hand because of stray dogs who apparently aren't very runner friendly either.
I then hailed a cab from the street and using my friend Google Translate managed to tell the driver that I wanted to head to Taq Kasra (إيوان كسرى), about 45mins south. We quickly settled on 40k IQD (26 EUR) and started driving south.
Taq Kasra is a 6th century Persian monument and is the only remaining visible remnant of Ctesiphon, a former royal capital. Unfortunately it is currently closed for restoration (I thought I had done my homework but it shows that Iraqi tourist resources are not that vast online). But it wouldn't be Iraq if the security guard didn't tell us how we could walk around the fence and get a picture from the other side.
By the way, the archway is the second largest single-span vault of unreinforced brickwork in the world.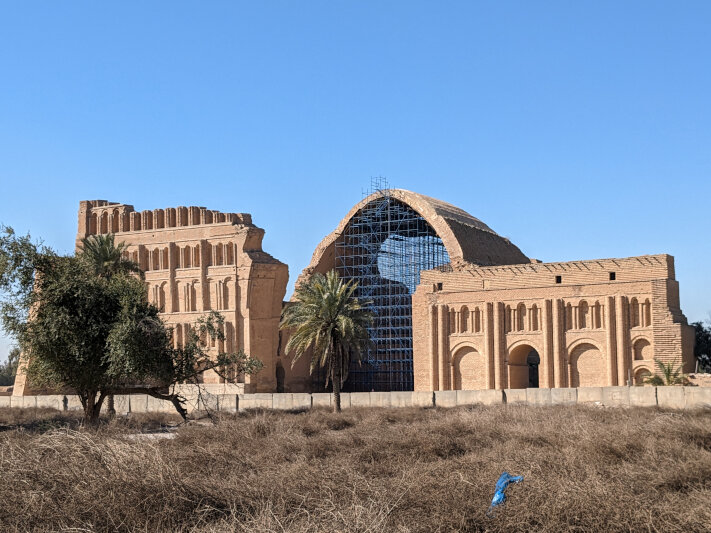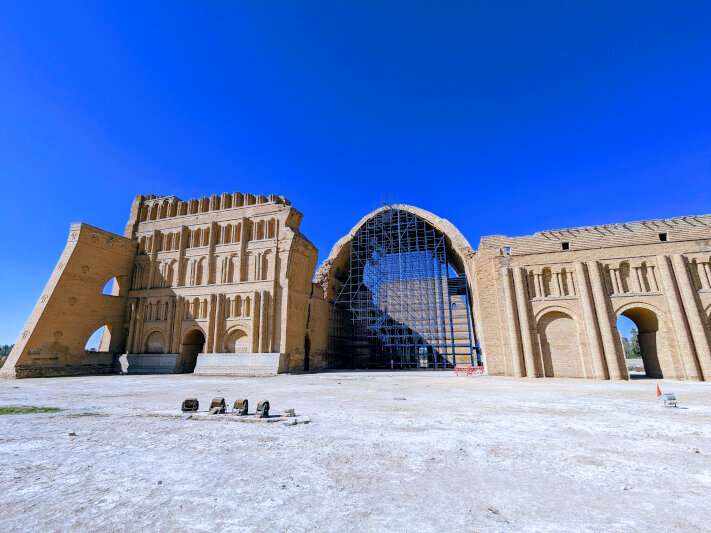 From there we drove back towards Baghdad and got caught in a bad traffic jam on the highway. Due to construction work, the three lane highway was reduced to a single lane. That didn't seem to bother Iraqis too much and the two lanes where just moved by a few meters to the right by driving through the actual desert.
I asked the driver to drop me off at the Al-Shaheed Monument (Martyr's Monument; نصب الشهيد). Built in 1983, it was one of Saddam's projects to show off his power and was meant to commemorate soldiers who fell during the eight-year Iran-Iraq war. Its significance has since expanded to include all Iraqi martyrs. Quite an impressive sight as you approach it.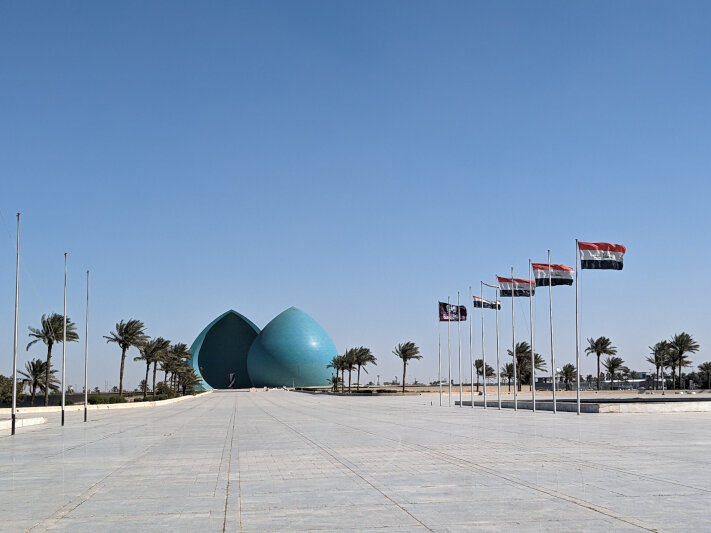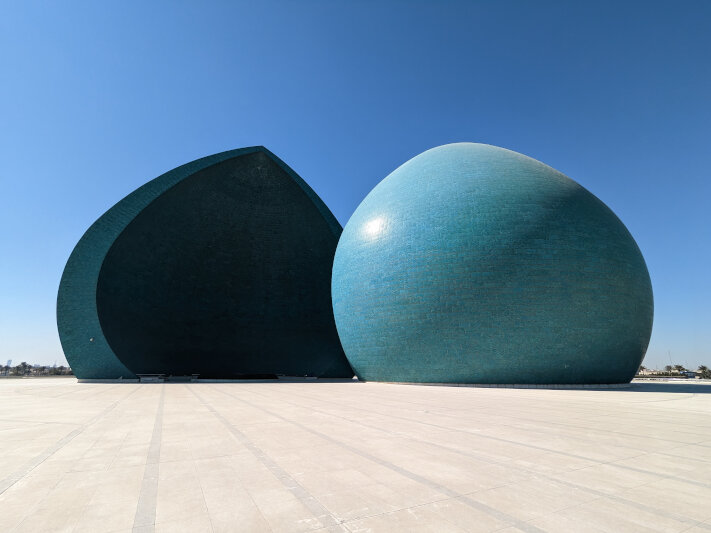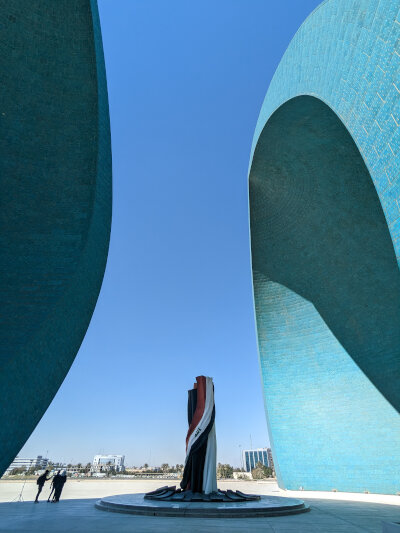 It was time for lunch and I ended up going for some falafel in a random hole in the wall which was well frequented. A decent meal for 1'000 IQD (60 cents):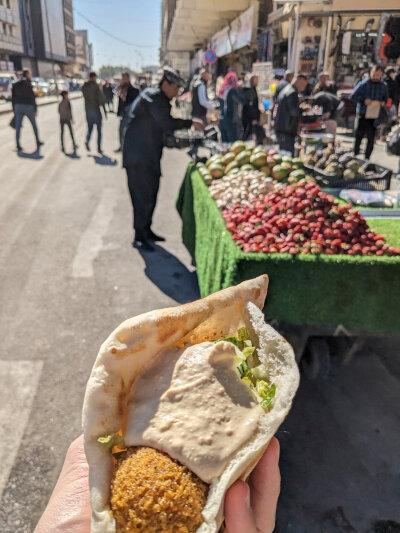 Before dinner I walked past a liquor store (there are quite few of them). I was surprised by the broad assortment of European beers but decided to try a local Iraqi beer; Maxi Beer. It comes as 5%, 8% or 10% version; I wasn't feeling too adventurous and gave the 5% version a try. Nothing to write home about.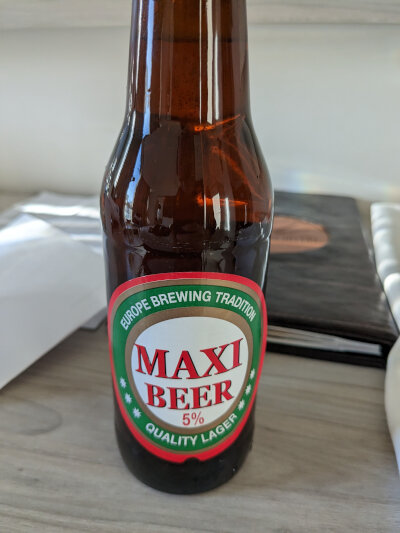 For dinner I headed to Dijlah Village, a recently opened shopping mall right by the Tigris river. It really could have been in Dubai with affluent Iraqi families enjoying a weekend night out in of the the mall's upscale restaurants.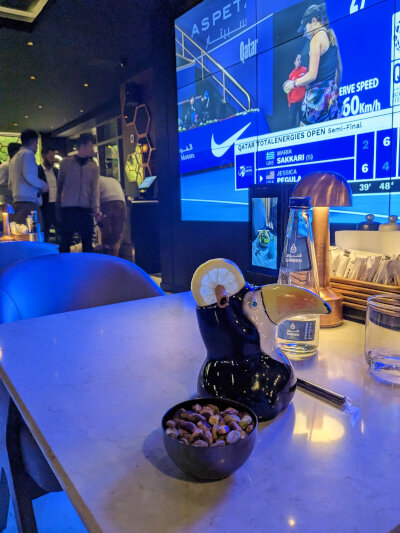 And with that, my time in Baghdad was coming to an end. I ordered a taxi in the late evening to bring me back to the airport. There are several security checks with your luggage getting sniffed by dogs twice before you enter the terminal building. Once inside, it is an airport experience just like another other and shortly after 2am I was back in the air, headed to Istanbul.
So what is my conclusion from my slightly unusual weekend destination? A fascinating city which must be the gateway to an even more fascinating country. There are many sights of historical and religious importance that I have yet to see. The tourist numbers are still so low that you get to visit these sites with a very authentic feel and without hordes of tourists (yet). At the same time, the tourist infrastructure of course doesn't really exist yet.
I really hope the country continues on the same, somewhat promising, trajectory towards benefiting from its natural resources and letting the general population prosper from it.