Baku – Azerbaijan
Ever since my trip to the "Stans" three years ago, I've been wanting to go back to that part of the world. Back then I did not get a visa in time for a visit to Turkmenistan, so that has remained on the bucket list.
The chance presented itself head off to Baku, Azerbaijan. The initial plan was to then take a cargo ship and cross the Caspian Sea to Turmenbashi, Turkmenistan and travel across the country, exiting into Uzbekistan. For reasons I'll outline later, that did not happen. But I did get to visit Baku, a city that I expect to experience a big surge in tourism in the coming years.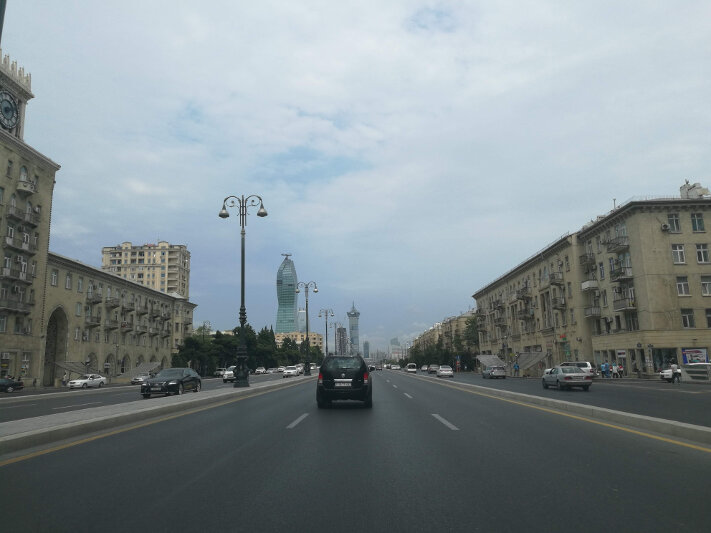 Located strategically between Europe and Asia, Baku is easily accessible for both tourists from Europe (of which there are very few), Russia and Arab countries (of which there are a lot). I chose to fly via Istanbul, getting into Heydar Aliyev International Airport (former Azerbaijani president and eponym to many more buildings than just the airport) on a Thursday evening. The airport is about a 20mins drive away from the city center and along the drive one gets already a first impression of the kind of architecture that awaits you.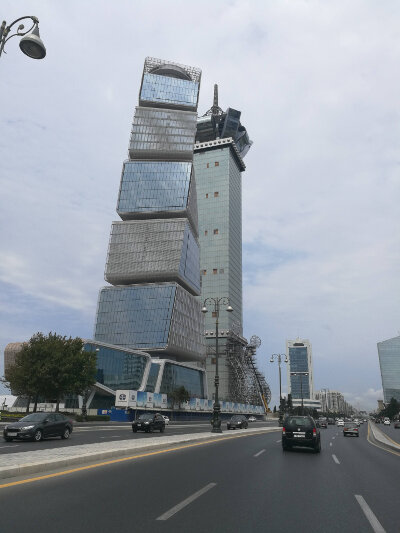 I stayed next to the railway station, about a 15mins walk from the Bulvar, the city's promenade. I guess some tourists tend to stay in the old city, that might also be a viable option but might have a bit of a Disneyland feel to it.
The city can be easily explored on foot, although if you go in August as I did, you'll need a certain heat tolerance.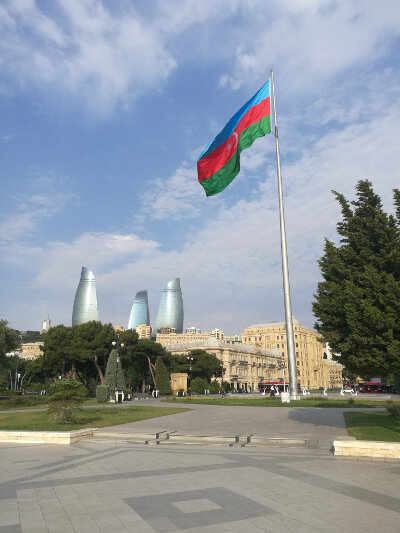 From the Bulvar, I crossed into the old city, starting with the Maiden Tower (Qız qalası).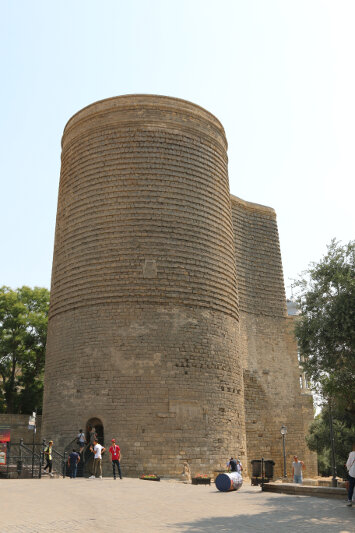 Even before arriving, you might have seen it on the banknotes. The 12th century tower has been restored nicely and nowadays offers great views of Baku from its top.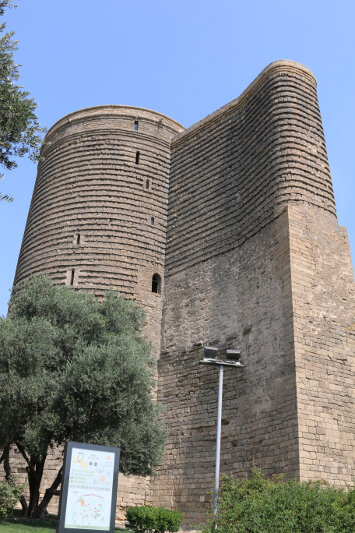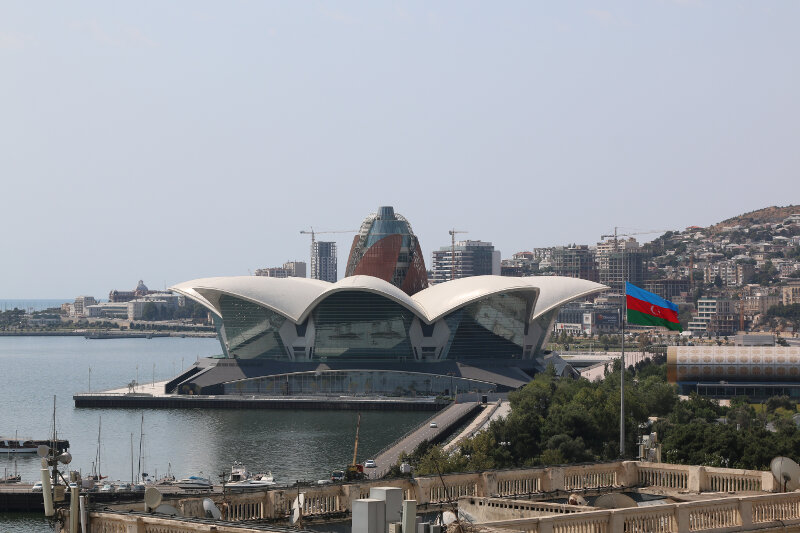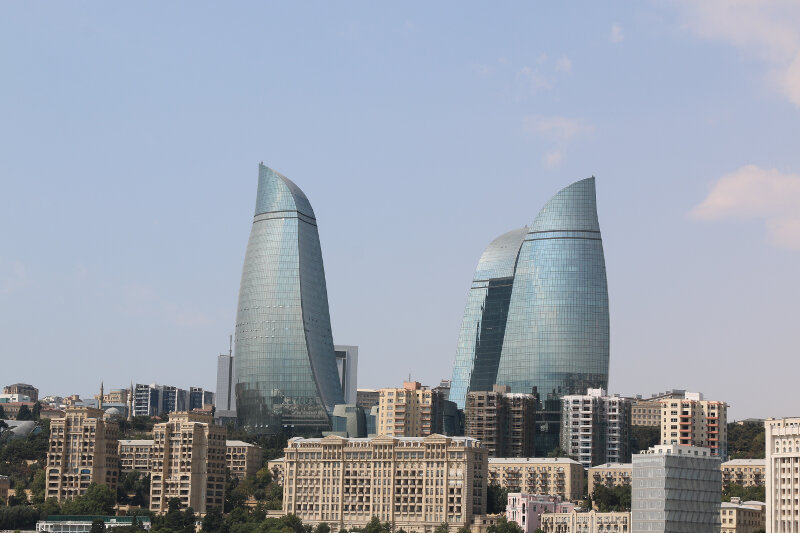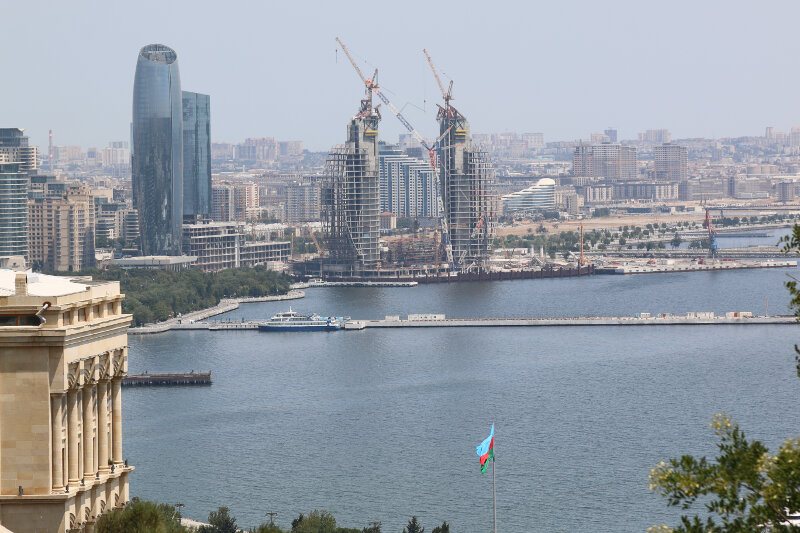 From the Maiden Tower you can start a pleasant walk through, and up, the old city.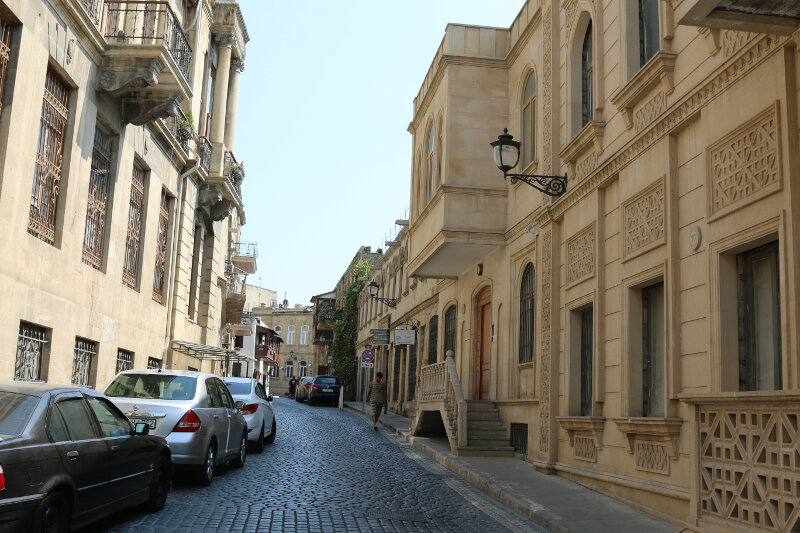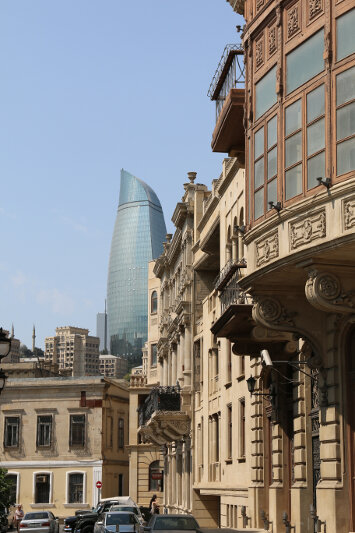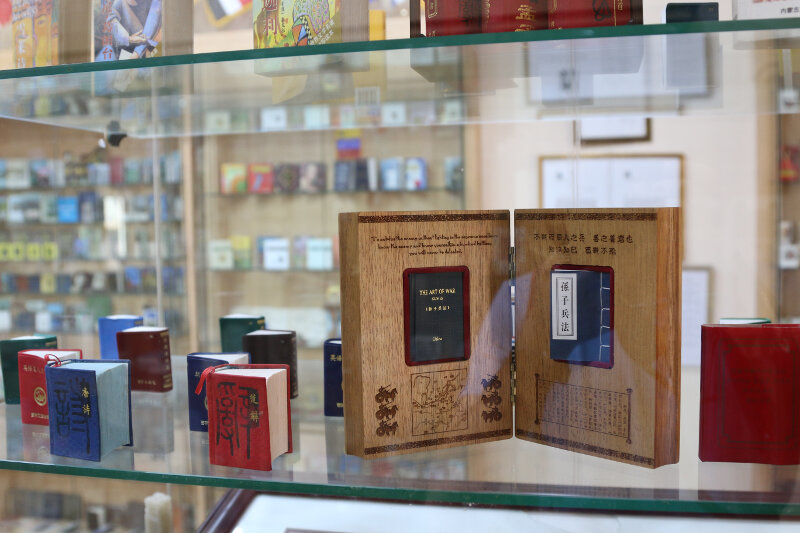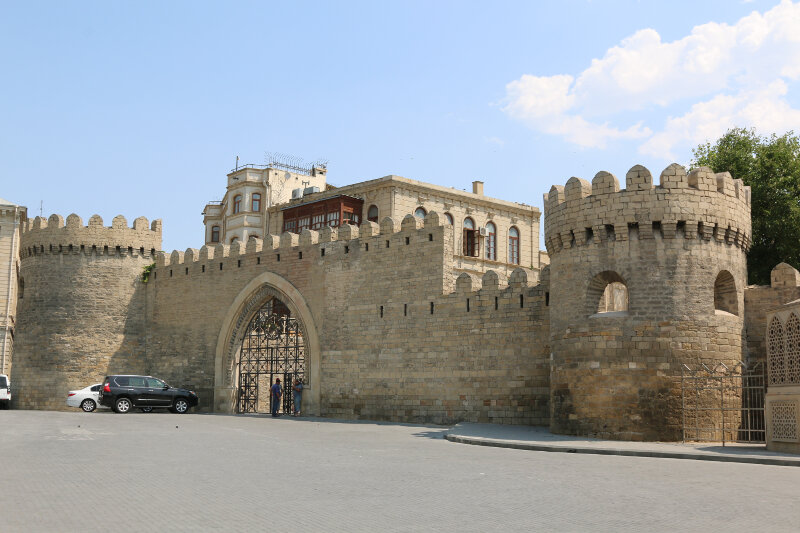 Walking around the city, the architecture is a fascinating mix of modern eccentric buildings and somewhat older facades that remind one of Paris: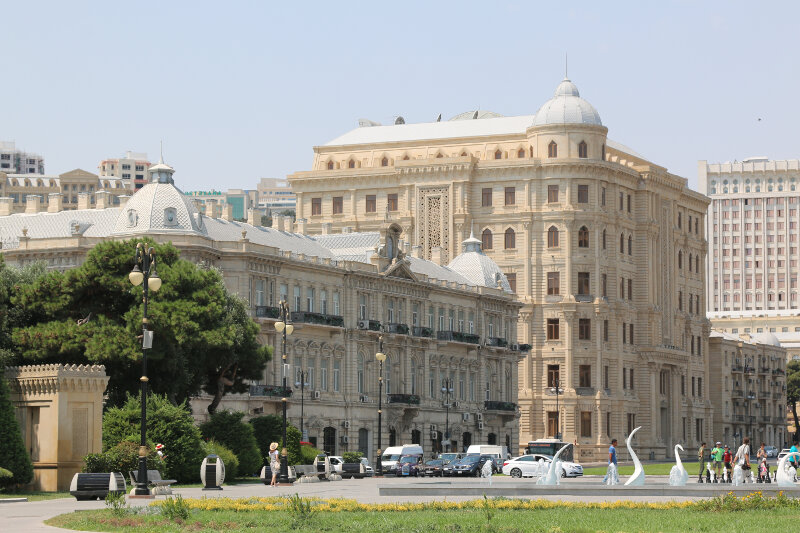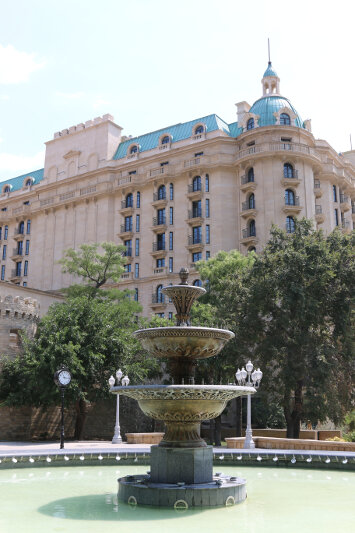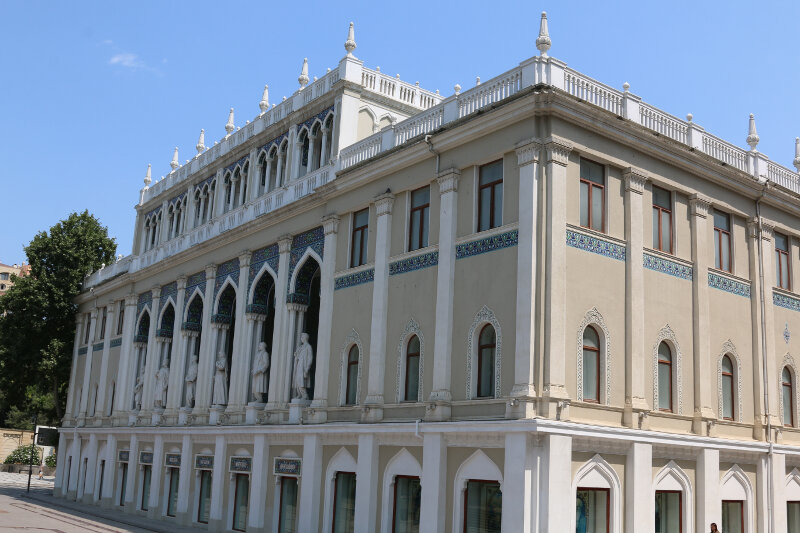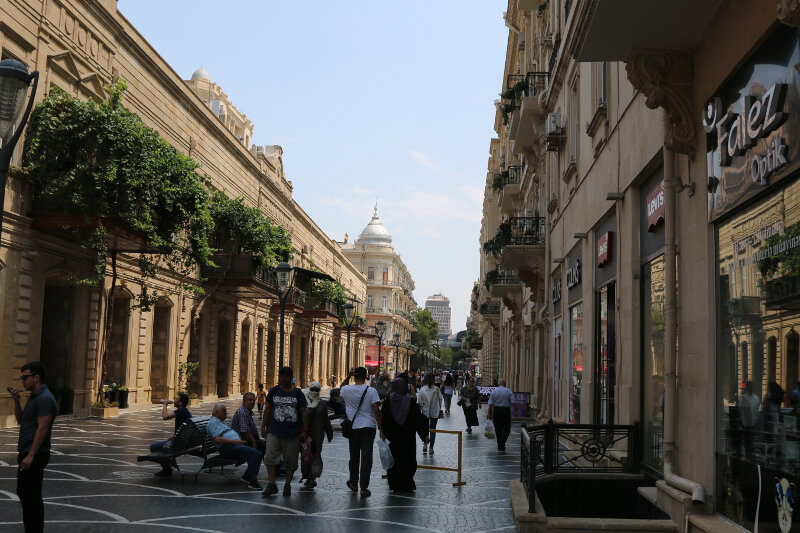 The city really comes alive in the evening during summer when temperatures are more bearable. Large crowds walk along the Bulvar and enjoy the light shows projected on buildings such as the Flame Towers or the Hilton. I really enjoyed my time in Baku and hope the city continues to develop further for tourists.
The initial plan was to then take a cargo ship across the Caspian Sea. There are some trip reports online all agreeing on one thing: there are no schedules. Maybe there is a boat today, maybe not. By now all ships have moved from Baku's port to a "new" port around 70km to the south at Alat. I've tried calling the "office" dozens of times, nobody picked up. There's supposedly an office in Baku which I managed to track down: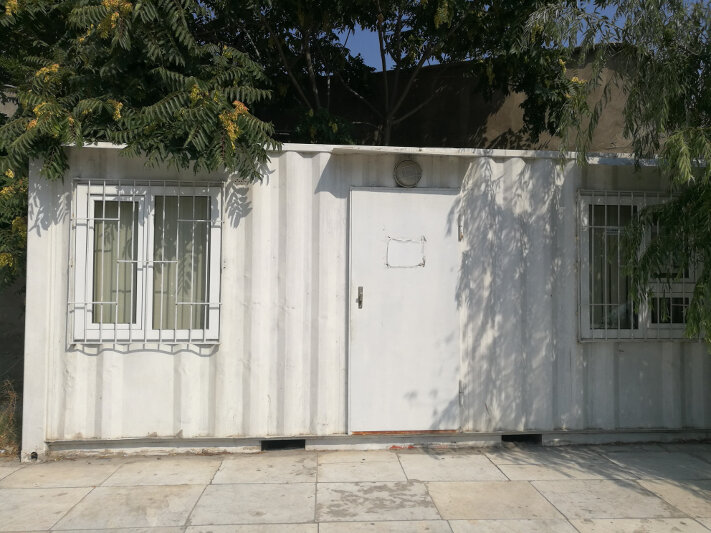 An unfriendly gentleman actually worked there and told me to come back tomorrow. After calling yet again, finally someone answered and told me there would be a ship tomorrow and to be there at 10. The next day I was there right on time and was told by several other travelers (both Turkmen returning home as well as Mongol Rally participants) that there would be not ship today but tomorrow. There was no official to be found. After walking around the port, I finally found the right container which serves as ticket office: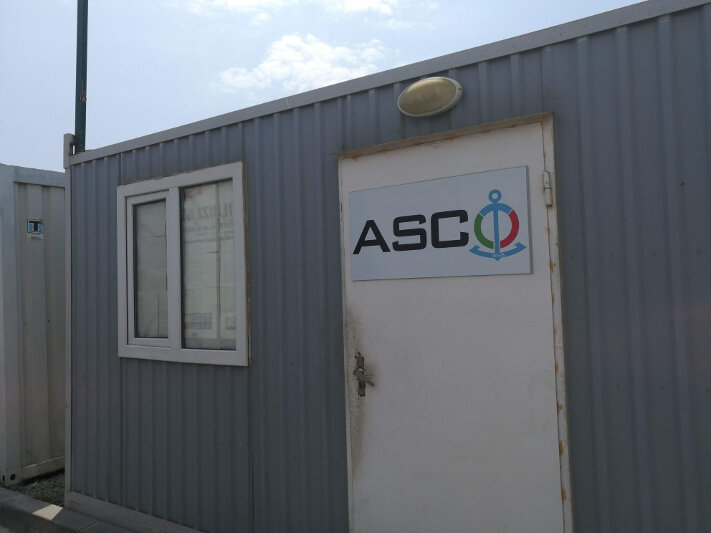 Again a very unfriendly guy who said "today no boat, tomorrow maybe". Not too excited about the prospect of returning to Baku and trying my luck again the next day (there have also been reports of the ship leaving suddenly, so some travelers put up their tent in the port), I decided to postpone Turkmenistan. After considering numerous options on where to go next and consulting my bucket list, I ended up booking a flight to… Egypt. Just four hours ahead of departure. Stay tuned on where I went.